Laurel Harple of i-D by Antonia Parker.
Antonia Parker is just delightful. She's also exceptionally talented and prolific, using bold colours and pattern to achieve wonderfully glossy idiosyncratic images. Ay, this is a girl after my own heart.
Laurel Harple (above) was one of the first arrivals at my launch party – I first encountered her when I spoke at Sketchbook Magazine's pop up shop last year, and she's now helping out at i-D. We went upstairs to do a video interview on her iphone (aren't they such clever little beasties?) and you can view the result online at i-D now. I love her Antonia's orange illustration, which also features at the front of the i-D video interview. Woop woop. She was a really good interviewer and I think I come across okay, even if I do look utterly knackered (I was). Next time I insist on more flattering lighting…

Rebekah Roy by Antonia Parker.
Rebekah Roy is a Canadian stylist who is also represented by Forward PR and she's a really magical lady. This season she will once again be styling the Prophetik show at London Fashion Week (Prophetik features in ACOFI) and I can't wait to see what she does. You can read last season's review here.

Claire and Yasmin of Ballad Of by Antonia Parker.
Ballad Of is a beautiful print and online magazine that supports many of the same illustrators that Amelia's Magazine features. It was a delight to meet Claire and Yasmin at the launch party. They've put together a lovely blog and a little video of the party which shows just how much fun was had during the evening in the Scout Hut at 123 Bethnal Green Road.

Heather Stanton of Dr.Hauschka by Antonia Parker.
Heather Stanton is the stunning PR lady for Dr.Hauschka, who were so incredibly helpful in making sure I had a fabulous collection of delectable facial treats in the goodie bags and did my make up on the day so that I looked glowing and healthy despite minimal sleep. I cannot thank Heather enough for being so wonderfully supportive.

Amisha Ghadiali by Antonia Parker.
I've been talking to Amisha Ghadiali for sometime now – she wears many different hats (and a particularly fetching specimen to my launch party) – she also designs jewellery and writes for Ecouterre as well as her own blog Elegance Rebellion, and you can read her write up here.

Becky of The Style Saint by Antonia Parker.
Becky Patrickson is responsible for The Style Saint: saving this planet, looking damn sexy while we do it. That's what I like to hear! Here's her blog about the book launch.

Laura of Forward PR by Antonia Parker.
Laura is Courtney's right hand woman at Forward PR and was responsible for the amazing action behind the bar throughout most of the night. Love loved her stripy top and braces, not to mention her dance moves…

Ronke Adeyemi by Antonia Parker.
Ronke Adeyemi runs The Musings of Ondo Lady which is a fabulous blog – she also interviewed me on the night. Unfortunately I think it's a wee bit noisy but you just might be able to make out what I'm saying against the din in the packed Bunker Cafe!

Antonia at the launch party.
You can follow Antonia Parker on twitter on @AntoniaMakes and don't forget you can buy Amelia's Compendium of Fashion Illustration here, with a special 10% if you use the discount code ACOFI LAUNCH up until the 28th February 2011. Here's Antonia in conversation in my youtube interview – she's since become an even more flaming redhead – see above. I really loved her up do – an illustrator's dream herself.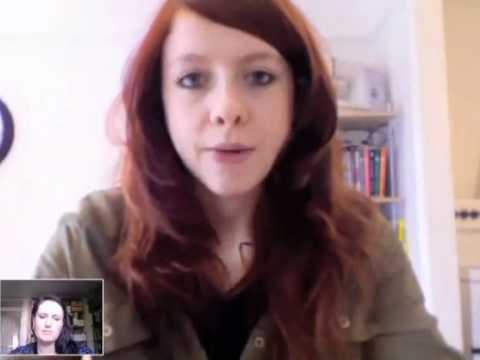 Tags:
123 Bethnal Green Road, Amisha Ghadiali, Antonia Harrowing, Antonia Makes, Antonia Parker, Becky Patrickson, Dr.Hauschka, Ecouterre, Forward PR, Heather Stanton, i-D, i-D Online, Laura, Laurel Harple, Prophetik, Rebekah Roy, Ronke Adeyemi, Scout Hut, Sketchbook Magazine, stylist, The Musings of Ondo Lady, The Style Saint
Similar Posts: