Me and Ani Saunders with Amelia's Compendium of Fashion Illustration.
Last week Ani Saunders of The Pipettes asked me to take part in a short TV programme looking at vintage and ethical fashion for new digital channel The Muse TV. Inspired by reading Amelia's Compendium of Fashion Illustration, she decided to take a look at the links between charity shopping, vintage and ethical fashion, visiting Oxfam in Dalston, 123 Bethnal Green Road (which she discovered when she DJ-ed at my launch party) and Beyond Retro. She then invited me into their Covent Garden office to ask why I think ethical fashion is so important.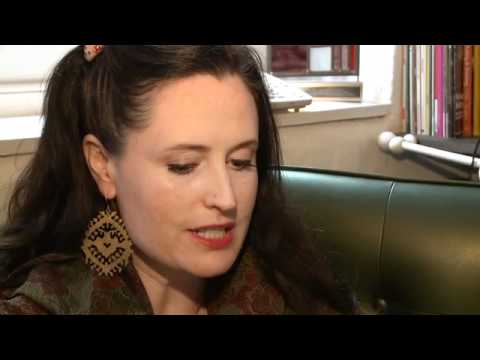 You can see my interview about 5.30minutes into the programme, and at the end there is also the chance to win a copy of ACOFI, which you can also purchase here. For the interview I wore my favourite ethical combo: a top by Beautiful Soul and earrings by Joanna Cave.

Ani Saunders with ACOFI.
Ani Saunders studied fashion but is also coincidentally an amazing illustrator herself, who goes under the moniker of The Lovely Wars. I urge you to check out her website! You can check out The Muse TV blog here, and video channel here. FInd out more about ethical designers by buying my book here.
Notes to self: my hair looks a mess when I don't have the benefit of an on tap hair stylist. Sigh.
Tags:
123 Bethnal Green Road, ACOFI, Amelia's Compendium of Fashion Illustration, Ani Saunders, Beautiful Soul, Beyond Retro, dalston, ethical, illustration, interview, Joanna Cave, oxfam, The Lovely Wars, The Muse TV, The Pipettes, TV, Vintage Fashion
Similar Posts: