Annie Dressner by Karina Järv.
American songstrel Annie Dressner crafts beautiful tunes that deal with love and loss, melodic folk that lovers of the likes of First Aid Kit are sure to adore. Having forsaken her hometown of New York in favour of love on UK shores she is now gearing up to release her new EP, titled East Twenties. I caught up with the honey voiced singer songwriter to discuss inspiration, lyrics and the importance of a good cup of tea.

Annie Dressner by Carley Chiu.
What prompted the move from NYC to the UK last year, and was it a good move?
Love prompted the move. It was definitely worth it for that. I do, of course, miss my friends & family and New York City (my home). That being said, it's been a really exciting year musically for me – and I have been fortunate to have the opportunity to tour around the UK a lot, which has been fun. I learned how to drive on the left, eat beans for breakfast, understand how to make Builder's Tea properly without having it tossed down the drain (uncool) and deal with the wide variety of weather that any given day can bring. I have not yet, however, adopted the accent. I'll always be a New Yorker!

Annie Dressner by Gemma Cotterell.
Are your love songs inspired by life? How much is the writing of them like catharsis? Do you feel better afterwards?
Yes, they fortunately or unfortunately are. I'd say sometimes a song is like catharsis, where as other times it is not. When there is something I find very difficult to deal with in life, it sometimes comes out in song. Maybe it is easier for me to express myself clearly that way – at least in a more clear way than as just pure thoughts. It is hard for me to answer whether or not I feel better afterwards – I would say that it really depends on the song and what I am experiencing then. I am always happy to finish a song that I am proud of.

Annie Dressner by Jihyun Park.
Why is the new EP titled East Twenties? It sounds as though it might be a reference to a district of New York?
That's right! I grew up in the East Twenties in New York City. Since a lot of the songs are inspired by things that happened in my life, I thought it made sense since many of the experiences were near there.

When did you first discover your love of song?
I have always loved music for as long as I can remember. There was a lot of music in my family – my Dad plays the piano, my Grandma always was playing violin in orchestras, my Aunt was a singer/songwriter and sound engineer, etc… I started to play piano when I was 4 and played violin for about five years starting at the age of 5. I always loved to sing – it's my favorite thing to do. I started to write when I was 18. It oddly never occurred to me before that time that I could write my own songs. I started to play guitar the day that I graduated high school. Rather than going to my high school graduation party, I went home and picked up a kid's guitar that had been untouched for my entire life from the corner of my living room & started to attempt to play it. After two weeks of attempting to play, I finally was starting to make some sense. Anyway, I just really enjoyed playing guitar & slowly but surely got the hang of it and started to write a few (maybe three songs over three years) songs for myself – I never really played them for anyone. One day, I played some of my songs for a friend and he said that I should either take it seriously or not do it at all — I have decided to do it seriously – and most of the time it is a lot of fun!

Annie Dressner by Sylwia Szyszka.
Who inspired you the most when you were discovering your musical voice?
I learned how to play guitar from a Simon & Garfunkel book and always loved them. I also listened to a lot of Belle & Sebastian, Carly Simon, jazz, classical music, James Taylor, etc… I couldn't say who exactly inspired me – as I am sure all of the music that I have listened to has, in some way, inspired me.

Anne Dressner by Simon McLaren.
Where can fans look forward to seeing you this year?
I am going to be playing all over the UK, including some festivals, such as Green Man, this summer. I am also going to be playing at Rockwood Music Hall on May 5 in New York City. A complete list of my tour dates are on my website.

When can we expect to hear a new album from you, and what themes are most inspiring your next set of songs?
My new EP East Twenties is out on April 8th. I am currently writing more songs, but don't want to promise when you will hear them. I would hope that I will have another album out in the next year to year and a half — just need to make sure it is good enough first (and write a couple more songs). As far as themes – I really don't know yet — and the one idea I have I'd like to keep quiet until I have attempted to write some songs. It's a fun idea though & I hope you think so too!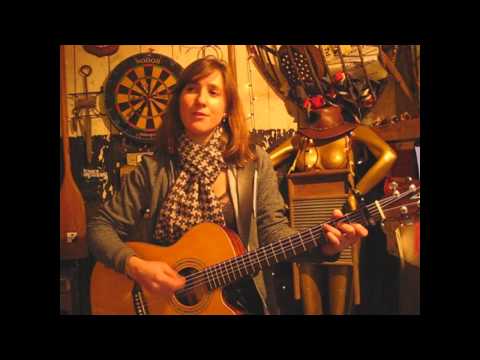 Can you tell us more about the Songs from the Shed venture?
Songs from the Shed is a really great video session for musicians in the UK. I heard about it & got in touch and luckily they let me come in and sing. Yes – it really is a shed. I went in the winter and it did become quite hard to feel my fingers! It was a whole lot of fun.

Annie Dressner by Katy Edelsten.
Tags:
Belle & Sebastian, Builder's Tea, Carley Chiu, Carly Simon, East Twenties, First Aid Kit, Gemma Cotterell, Green Man, James Taylor, Jihyun Park, Karina Jarv, Katy Edelsten, Rockwood Music Hall, Simon & Garfunkel, Simon Mclaren, Songs from the Shed, Sylwia Szyszka
Similar Posts: