Bishi by Margaux Quayle Cannon
It was a chilly evening on London's Southbank, but still buzzing with Friday night revellers, skateboarders and tourists sampling the wares of the newly opened Christmas Market. Nestled beneath Waterloo Bridge, the BFI Southbank was my refuge for the evening, for Bishi's Albion Voice show. There were a few glamorous individuals (including one half of Robots In Disguise, namely Dee Plume) in the crowd waiting patiently for the doors to open, some looking as though they were auditioning for a Roxy Music album cover. A bit unexpected for the various film goers passing through! As we took our seats inside the plush NFT1 auditorium, there was a brief introduction by Stuart Brown of the BFI's Sonic Cinema, who had helped organise tonight and, as the lights dimmed, we were underway.
Bishi by Shy Illustrations
Bishi by Dom&Ink
A classically trained musician, after learning the sitar, bass and ukulele and developing a love for vintage synths and electronics, Bishi branched out into performance art and DJing, as well as playing with the likes of Patrick Wolf and Róisín Murphy. Acclaimed by the New York Times, no less, as the "New British Diva", she also features in Julien Temple's wonderful documentary London: The Modern Babylon. Albion Voice, her second album, is an ambitious exploration of Britain ancient and multiculturally modern (inspired by Michael Bracewell's book England Is Mine: Pop Life In Albion From Wilde To Goldie), fusing English folk, minimal drones and lush orchestrations, and incorporating the writings of Milton, Chaucer and Mary Elizabeth Frye.
Bishi by Angela Lamb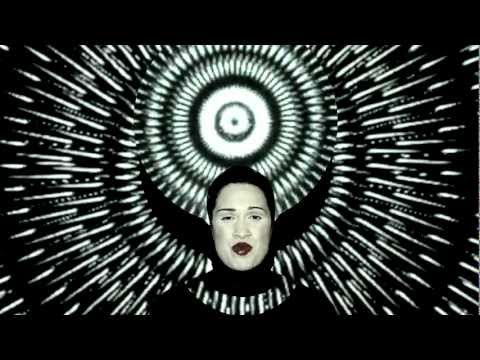 Taking centre stage, with a dazzling array of animations playing on the big screen behind her, Bishi ran through the songs from the album with an equally dazzling array of costume changes. On pieces like the epic Dia Ti Maria, the combination of hypnotic images, with vocal harmonies and a resonant church organ run through the BFI Southbank's crystal clear PA, created a mesmerising effect. Bishi strapped on a sitar for the album's title track, Albion Voice, and duetted (on screen, at least) with her mother, Susmita Bhattacharya, on Gram Chara (with lyrics by Rabindranath Tagore, who, in 1913, was the first non-Westerner to win the Nobel Prize in Literature). There was an instrumental interlude for The Last Of England, accompanied by an excerpt from Derek Jarman's film of the same name (featuring a young Tilda Swinton). One song that didn't feature on the album but which did appear was St George And The Dragon, recounting the legend of Dragon Hill. A thoroughly awesome set finished with Ship Of Fools, with Bishi inviting the audience to join in with its singalong finale.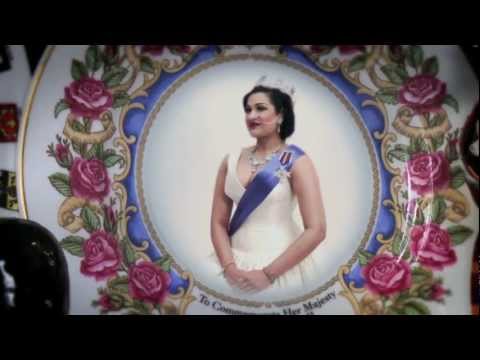 Bishi by Dom&Ink
As Bishi left the stage to rapturous applause, and with the possibility of another performance at an East London gallery in the New Year, it looks like Albion Voice is finally going to get the exposure it deserves.
Tags:
Albion Voice, Angela Lamb, BFI, Bishi, Chaucer, Dee Plume, Derek Jarman, Dom&Ink, Julien Temple, Margaux Quayle Cannon, Mary Elizabeth Frye, Michael Bracewell, Milton, New York Times, Nobel Prize, Patrick Wolf, Rabindranath Tagore, Robots in Disguise, Roisin Murphy, Roxy Music, Shy Illustrations, Sonic Cinema, Southbank, Susmita Bhattacharya, Tilda Swinton
Similar Posts: