Find Your Feet-Bollywood


By Stamo A/W 2011 by Rebecca Strickson.
On Sunday 13th March Find Your Feet hosted an ethical fashion show at the Mint Leaf restaurant in the Haymarket. I was invited to donate a copy of Amelia's Compendium of Fashion Illustration for We Are What We Wear by the show stylist, abortion the lovely Zoe Robinson of Think Style – a women with many sustainable strings to her bow. She works as an actress, a writer (for Egg Mag) and an ethical image consultant.

Bollywood dancing from Honey's Dance Academy by Jane Young.
We were treated to some very energetic Bollywood dancing thanks to Honey's Dance Academy, followed by two short catwalk shows which took place on walkways surrounding the sunken restaurant. Models included youngsters and a couple of more mature women from Close Models, which provided a really uplifting touch.

Junky Styling by YesGo Illustration.

Junky Styling. All photography by Amelia Gregory.

People Tree.

Bhavna.

Outsider.
During the first show we saw a fabulous multi layered pink maxi dress from ACOFI featured designer Junky Styling, cute dresses from People Tree, embellished bamboo dresses from Bhavna, and gorgeous silk classics from Outsider, who I discovered at Ecoluxe this season.

Amisha, Zoe, Orsola and the kids.
As I had a bar ticket I was able to roam around, and between shows sat with Zoe, Amisha Ghadalli, Maria Papadimitriou of Slowly the Eggs/Plastic Seconds and Orsola de Castro of From Somewhere, who was entertaining her young daughter and her friend. We ate some yummy canapes and watched a magician bend forks, then a Find Your Feet ambassador described the work done by this charity, which includes helping to fund sustainable farming practices. Fittingly, she described how a group of women in rural India bandied together to make the most of the mint growing on local farms – they now have a successful essential oil business.

The magician entertains the kids.

Charley Speed and bottle top bag.
Then it was on to the auction, where any mention of my book was usurped by the lure of an Outsider dress, as worn by a celebrity – the presenter Charley Speed dashing maniacally around the room to squeeze as much money as possible out of the generous crowd. The whole lot (including a bottle top bag) went for £300, and I can only hope that the recipient appreciated my donation because he probably had no clue what it was.

Ada Zanditon S/S 2011 by Gareth A Hopkins.
Round two featured three Amelia's Magazine favourites from ACOFI: off-cut drama courtesy of From Somewhere, amazing sculptural pieces from Ada Zanditon and colourful dresses with sunflower decorations from By Stamo. There was also some playful printed dresses from Love Phool.

From Somewhere by Gareth A Hopkins.

From Somewhere.

Ada Zanditon S/S 2011.

Love Phool.

By Stamo A/W 2011.
A range of ethical accessories were used to style the show, amongst them some old favourites: LeJu, Nina Dolcetti and Joanna Cave… and some new discoveries: Meher Kakalia, who adapts ancient shoemaking techniques from her home town of Karachi to create modern footwear in Brixton, and Kumvana Gomani, who creates delicate jewellery out of plastic waste.

By Stamo A/W 2011 by Maria del Carmen Smith.
Exposing ethical design to more people and raising money for sustainable projects are good things to do, but We Aren't JUST What We Wear, we are also What We Do in every aspect of life. On my return home I was somewhat saddened to read about a couple of other auction sponsors: it was also possible to win a test track experience with Jaguar or a BMW for the weekend. I know that money has to come from somewhere but there is a distinct lack of joined up thinking in ethical practice: a Mint Leaf waiter could not tell me whether the chicken they served us was freerange or organic.
We Are What We Wear was a massive success: raising over £10,000 to support sustainable weaving projects in India, but I wish that there was more recognition within the charity sector that sustainable practice involves more than donating money for dinner to support those less fortunate on the other side of the world, it's about a holistic way of being. Within this world view I do not include hyping the desirability of extremely expensive energy guzzling cars. Needless to say, mine was the only bike tied up outside the Mint Leaf restaurant.

Illustration by Hayley Akins.
Such had been the anticipation surrounding Caitlin Rose's return to the UK, adiposity especially after the release of her acclaimed debut album, Own Side Now, that her shows in the capital soon sold out. Being the smallest of those venues, but organised by such thoughtful fellows, Brixton's Windmill quickly arranged a special early evening show to cater for any disappointed punters. Needless to say, the tickets flew for that one as well.

Illustration by Donya Todd
I'd been caught out too many times by being lastminute.com when buying tickets in the past, so I'd got in sharpish and, as a result, I drew the straw for the late show. I arrived quite early (well, 9.00pm) and caught the support band, Treetop Flyers, limbering up for their second performance of the evening. A London based band, and purveyors of the finest Americana, tonight they were playing a more stripped back acoustic set. I'd never caught them before, but I liked what I heard. They set the mood nicely for the evening, even throwing in a Townes Van Zandt cover.

Illustration by Stephanie Thieullent
By the time Caitlin Rose took to the stage, the Windmill was pretty rammed. I'd seen her live a couple of times before (and all but once at the Windmill), though this was the first time with a full band (apparently they couldn't afford to fly out the drummer from the US on the last tour). After having obviously enjoyed a few refreshments between sets, Rose cheerfully exclaimed "two of us haven't slept!", as the band launched into New York.

Illustration by Mary Ferfiry
Own Side Now has seen Caitlin Rose expand on the fairly traditional country sound of her debut release, the Dead Flowers EP (as hinted at in an interview with Amelia's Magazine last summer). The intimacy of the Windmill really lent itself to her songs (and especially that voice!), as we sampled such bittersweet treats as For The Rabbits and Learning To Ride.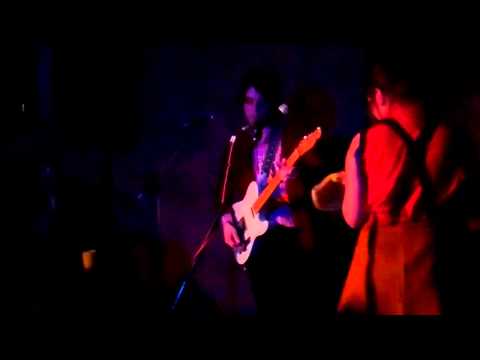 There was a particularly affecting rendition of Own Side, which brought a lump to the throat of even this old cynic. Answer In One Of These Bottles (from Dead Flowers) sparked a raucous sing-along, before everyone rocked out to Shanghai Cigarettes.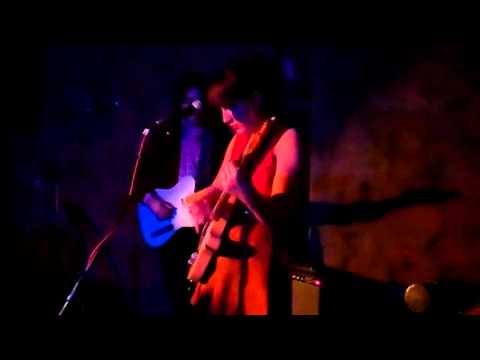 Illustration by Ashley Fauguel
Rose switched from acoustic guitar to electric and back again, there was plenty of banter, and there were all the hallmarks for a special night in place. After a couple more UK dates before a return to the US, and then a trip to the Antipodes, we're not likely to see Ms Rose on these shores again before some festival appearances in the summer – given her current ascendency, one wonders whether we'll ever see her play in such a venue as the Windmill again.

Illustration by Maria Papadimitriou aka Slowly the Eggs
Categories ,americana, ,Ashley Fauguel, ,Brixton, ,Caitlin Rose, ,country, ,Dead Flowers EP, ,Donya Todd, ,Hayley Akins, ,Maria Papadimitriou, ,Mary Ferfiry, ,Nashville, ,Own Side Now, ,Slowly the Eggs, ,Stéphanie Thieullent, ,Townes van Zandt, ,Treetop Flyers, ,Windmill

Similar Posts: