On Sunday we lost a few and gained a few. Pete Lawrie called by with terrible hayfever to say he couldn't sing for fear of losing his voice but kindly volunteered to perform at another Climate Camp benefit. Of course I made him stand in front of our banners so I could get a photo anyway.

Pete Lawrie.
Robinson just didn't turn up. I missed a phone call whilst doing an impromptu Green Kite Midnight gig at the Greenpeace Stage, which laughably requested that I get on the radios to sort out a vehicle escort to meet them from their Acoustic Stage gig (erm, did you read any of my emails?) They then ignored all my later frantic calls. Professional. Still, they probably wouldn't have had much of an audience, what with them clashing with that embarrassing worldcup football match and all.
I missed most of Pete the Temp but managed to catch him performing some fun mashed up covers dressed in a tutu from our grand raffle.

Lulu and the Lampshades by Katie Harnett.

Lulu and the Lampshades decided to play at the last minute once their Glastonbury tickets were confirmed. Fronted by my former art editor, the super talented Luisa Gerstein, I am ashamed to say that this was the first time I had seen them perform live. I had previously only visited them on myspace, which really doesn't do justice to their ace live performance. Playing on a variety of strange string instruments, an old typewriter and an assortment of pots, pans and donating buckets scoured from the Climate Camp kitchen, they were incredibly inventive.

Lulu and the Lampshades by Katie Harnett.
Both myself and Luisa have camped extensively with Forest School Camps, and her glorious melodies reflect the mix of traditional English, Irish, Scottish and American Bluegrass music that we love to sing around campfires.
Lulu and the Lampshades ended on an acapella version of traditional gospel song You're Gonna Miss Me When I'm Gone – here performed with just two of the band members and some old yoghurt pots (another trick I suspect she learnt around the campfire). A cult classic if ever I saw one – there are already multiple tributes on youtube.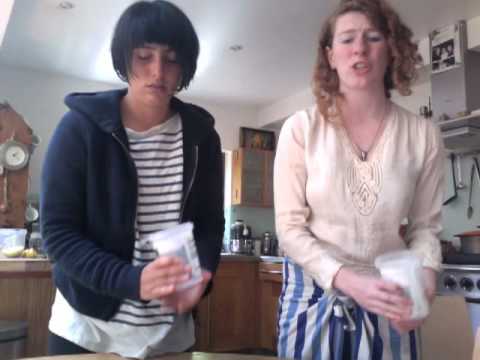 Luisa's best bit about playing the Tripod Stage: our make-shift drum-kit from the catering tent.
Luisa's best bit about Glastonbury this year: Sunday evening: Mountain Man in the Crow's Nest followed by Dirty Projectors followed by Stevie Wonder; twas dreamy. 
 
You can catch Lulu and the Lampshades at Bestival later this year.
Cats and Cats and Cats then borrowed a number of instruments from Lulu and the Lampshades to play another exclusive for the Tripod Stage, lead singer Ben George having come down from his parent's pottery stand in the Green Fields to offer us the gig. Quite fortuitously Cats and Cats and Cats have their debut album If I'd Had An Atlas out next week, so we were treated to stripped down versions of a range of songs which I've since been able to listen to on record.

Cats and Cats and Cats by Farzeen Jabbar.
When and where was the album recorded?
If I'd Had An Atlas was recorded over 11 days in deepest darkest Wales (Giant Wafer Studios in the Brecon Beacons), it was great to be so far away from any bustling cities and we could really concentrate there. We also did some recordings of extra instruments (tuba, cello, accordion etc.) in Folkestone at Barewires Studios.
What inspired the name If I'd Had An Atlas?
The name is from a lyric in the title track which reads "I don't know, if I'd had an atlas, where we would be," which fell out of my brain at some point and I scribbled it down. I like the imagery of someone imagining that if they'd had a map they would have done things differently but of course there is no map and life is chaotic and that's why it's amazing.
What was the best bit about playing on the Tripod Stage?
I really enjoyed just turning up and using what instruments we could gather to piece together a set and then managing to pull it off! Thanks loads to Lulu and the Lampshades for lending us their equipment and also for being really brilliant. The only bad point was when I dedicated a song to my brother only to find he'd run off to watch Nora Jones!
What was your favourite part of Glastonbury this year?
I saw some of my favourite Glastonbury performances this year by bands like: Boxcar Aldous Huxley, Tubelord, the Dirty Projectors, Meursault and Imogen Heap; I was also gobsmacked at the lightning men and amounts of fire in Arcadia. But I have to say the weather, I was there for 8 days and I didn't see a drop of rain. Amazing.
What other festivals are you playing at?
We've got a couple more lined up in July: Lounge on the Farm in Canterbury on Friday 9th (at 12pm) and 2000 Trees Festival in Cheltenham on Saturday 17th. Then we'll be playing a farewell show for our violin player in London at some point as she's leaving the band, but we'll be back on the scene in October for a UK tour. Hopefully see you soon.
Ben has one of those voices that delights in the slightly out of the tune: it shouldn't work but most of the time it somehow does: his wailing vocals become a feature in themselves, especially when offset against such a lush backdrop: brass, strings, entire orchestras, choirs, all have their place on this album – occasionally screeching to a standstill that echoes the offkilter vocals. It's all great fun. Stand out single A Boy Called Haunts is a triumphant melody about… a boy who is trying to impress a girl, so he dresses up as a ghost on Halloween. Only trouble is that he then becomes a real ghost and discovers that she spends her free time having sex with men in porn films. As you do. Ben has been learning Japanese for 3 years so he decided to write a song in Japanese "half to see if I could and half to show off".
Towards the end of the album curveball Suizokukanni works surprisingly well, even if the subject matter is equally bonkers. In it Ben's fictional brother talks to the fish in the garden pond so he gets shunned. One day Ben hears the fish in the garden calling his name and realises he can talk to them. The last line roughly translates to "Lets go to the aquarium together and never return!". This is followed by the beautiful The Smallest Song, a much quieter and more subdued affair, even as the brass section kicks in. The next single will be If I'd Had Antlers, which features sawed and plucked violin melded to trademark awkward beats and a surprisingly delicate melody. Watch out for the animated video. Cats and Cats and Cats might be an acquired taste, but they're wonderfully original and definitely a grower. Well worth checking out.

Attila the Stockbroker by Carolyn Alexander.
Our final performer was another late booking – Attila the Stockbroker, pint in hand, gave us some grand punk beat poetry. 60 years old and able to give any number of youngsters a run for their money. I'd like to see more of him one day.
And so ended my Tripod Stage musical line-up. And what a joy it was. Here's hoping we can do as well next year…
Tags:
2000 Trees Festival, Acapella, Acoustic Stage, Arcadia, Attila the Stockbroker, bestival, Bluegrass, Boxcar Aldous Huxley, brass, Carolyn Alexander, Cats and Cats and Cats, Climate Camp, Crow's Nest, dirty projectors, Farzeen Jabbar, folk, Forest School Camps, Green Fields, Greenpeace, Imogen Heap, Katie Harnett, Kitchen, Lounge on the Farm, Luisa Gerstein, Lulu and the Lampshades, Meursault, Mountain Man, Pete Lawrie, Pete the Temp, Pottery, Robinson, Stevie Wonder, Traditional Music, Tripod Stage, Tubelord, wales
Similar Posts: