Cornelia by Lisa Stannard.
New music sensation Cornelia was introduced to me by Manchester based illustrator Lisa Stannard, abortion who features in Amelia's Compendium of Fashion Illustration.

Cornelia's Aquarius Dream by Fawn Carr.
Cornelia is a talented singer, songwriter and producer who hails from Sweden but is now based in London. Her new single Aquarius Dreams was released a few weeks ago, accompanied by a wonderful animated video. Let's find out more…

Peaceful Intensity for Cornelia by Joanne Oatts.
How do you know our lovely Lisa Stannard? One of the featured illustrators in my new book told me about you…
Lisa fluttered into my life by coincidence, sharing common friends and flowers. Her distinct laughter and lashes swift as butterflies' wings made me curious. They say creative hearts draw to each other.

Cornelia by Finn O'Brien.
How did you growing up in a remote rural location affect your creativity?
?Growing up on a barren island gave me a big, colourful palette to play with. No physical instruments or tools except my piano. But a lot of sky, lone walks and time to read books.

Cornelias by Sam Parr.
How did you get from Sweden to London? There must have been some steps in between…
?A few years back I followed the path from Stockholm to Barcelona, where I met some of my first London friends. They persuaded me that London was the city for me. I started exploring this curious melting pot, and eventually moved here.

Photography by Christopher Hunt.
What was your previous band called and how would you describe it in three words?
I've been in many musical constellations, but only one traditional band before I decided to explore music on my own. It was called Popshop. I remember I didn't really like that name, it made us sound like something plastic. Which we weren't. But I liked my band. It was naïve, charming and a good learning curve.?

Cornelia by Jane Young.
In starting your own label you have planted your own 'savage seed' in order to control your own destiny. What have been the best and hardest things about this process?
?You can never fully control your own destiny? But you can plant your creativity where it has the potential to grow freely, organic and unique. The trick is to find the right soil, and it took me a long time to get settled.
What happens on Camp Mozart? Are you planning to release other musician's music too? Do you produce for others?
I write songs for others. Maybe because I like the challenge. And I hope to put out more music by other musicians but there will be a time and place for that.

Cornelia by Lina Hansson.
Who or what inspires you vocally?
Hauschka's music. It makes me sing. ?

Aquarius Dreams by Jane Young.
You are inspired by the hip hop and electronic scenes – how did you get involved with these?
Music comes to you a bit like friends do. You have a few things in common but still there's something interesting and different with them that you want to find out more about.?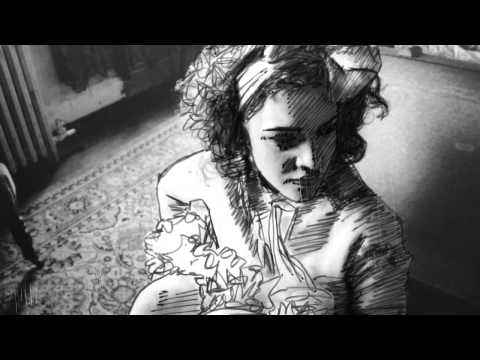 Aquarius Dreams
How was the video made for Aquarius Dreams?
The video is made by Martyn Thomas from Stitch That. Martyn used stop motion techniques with each frame of film sketched by hand, then individually photographed against a backlight. It's the work of a champion. Everything of flesh and blood in this video is sketched by hand like they are made up beings, whilst dead things like metal robots or lampshades looks perfectly real. I guess I'm trying to describe how it can be to get caught up in your own creativity and loose concept of reality.

Cornelia by Sally Jane Thompson.
What are you doing for the rest of your summer? Any recommendations?
I'm rehearsing my live set, supporting Portico Quartet in London in August. I'm slowly finishing my album with my co-producer Utters and I'm also working on some productions with Scratcha DVA for his next album. I've been travelling so much this spring that I'm going to try and stay put for a bit. Enjoy that I'm living in one of the most culture hectic capitals of the world, not too far away from some stunning nature scenery.

Cornelia by Camille Block.
A long walk around the lake district is one of the most soothing yet energising things I've done in my life. If anything that's my recommendation.
Tags:
ACOFI, Amelia's Compendium of Fashion Illustration, animation, Aquarius Dreams, barcelona, Camille Block, Camp Mozart, Christopher Hunt, Cornelia, Fawn Carr, Finn O'Brien, Hauschka, Jane Young, Joanne Oatts, Lina Hansson, Lisa Stannard, London Kills Me, Martyn Thomas, Popshop, portico quartet, Producer, Sally Jane Thompson, Sam Parr, Scratcha DVA, singer, songwriter, Stitch That, stockholm, Swedish, Utters
Similar Posts: