Savages by Sharon Farrow
Tucked away behind Angel Tube Station, down a small side street, you seem to be a world away from this most respectable part of North London. Indeed, only a stone's throw from a Jamie Oliver restaurant, Electrowerkz stands in stark contrast. Housed in an old warehouse, Electrowerkz, or more officially, the Islington Metal Works, is a slightly surreal warren of rooms that, according to the website (when it's not hosting weddings and other functions) still operates as an actual metal works. As a venue, it's probably better known for club nights, and its dark, almost claustrophobic interior has that late eighties/early nineties rave feel to it. I'd first been here almost a decade ago (to see a then housemate play an electro set) and, until a month or so ago, hadn't been back since. In all that time, the place remained unchanged.
Tonight, the buzz was all about Savages, on the first night of a brief residency. First up, though, were Blue On Blue. I'd seen them a couple of years ago as a shoegazey three-piece, but now as a duo (Dee Sada on keyboards and bass, Billy Steiger on keyboards, guitar and violin), they offer a more minimal, glitchy sound. I was most impressed with them, and the crowd that had gathered to watch seemed supportive.
Savages by Shy Illustrations
During the break, I went for a bit of a wander, navigating a new set of stairs I'd never noticed previously. Hidden away on the lower level, past what appeared to be a video installation of some sort, was a small screening room showing an unusual early sixties Japanese film (which I later discovered to be the avant-garde classic The Woman In The Dunes).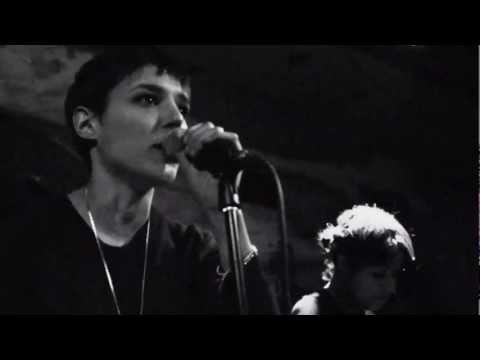 Back upstairs, the crowd in the main room was beginning to swell as Savages' set approached. This is a band that has really appeared from nowhere. Despite only being together since last year (and playing live for a few months), and with one single to their name (the double A side of Flying To Berlin and Husbands), they have earned lashings of praise from the music press, featured at a number of festivals, bagged a TV spot with Jools Holland and played at packed out venues (including an audience featuring the great and the good of the major indie record labels at Dalston's Shacklewell Arms). I'd seen singer Jehnny Beth a couple of times before, as one half of French duo John & Jehn, but the sound of Savages is much darker than their pop noir, more a lesson in post-punk back to basics.
Savages by Gemma Green-Hope
Taking to a suitably industrial looking stage, and bathed in harsh beams of white and blue light, Savages immediately let rip. With Fay Milton pounding away on drums, the rumbling bass of Ayse Hassan and Gemma Thompson's squalls of guitar noise behind the jittery presence of Jehnny Beth, they recall such luminaries as Public Image Ltd, Siouxsie And The Banshees and Joy Division (indeed, the bassline on Flying To Berlin tips a sizeable doff of the cap to that of Peter Hook on Joy Division's Colony). I tend to be a bit wary when it comes to hype bands, but with songs like City's Full and Husbands reverberating around the tiny room, it proved that Savages are the real deal. And they are loud! They certainly got the audience going, though it looked a bit too sardine-like at the front for any moshing. Most surprising thing, though, was seeing a guy in front of me actually sketching the band on his iPad!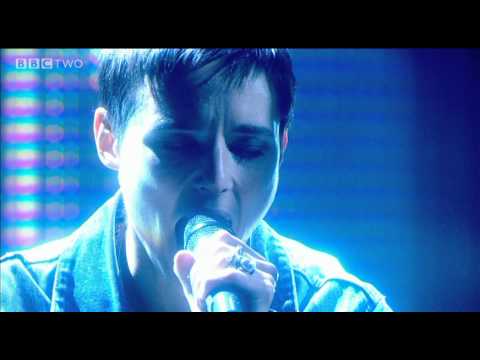 As the set closer Husbands shuddered to an abrupt halt, Savages left the stage to roars from the crowd, but there was to be no encore. Instead, to console ourselves, there is the newly released live EP and the prospect of seeing them once more in the UK in November, after a short trip to the States and some dates around Europe. After that, we shall have to wait and see what surprises Savages spring next.
Tags:
Blue On Blue, dalston, electrowerkz, Gemma Green-Hope, Islington, Jamie Oliver, Japanese film, John & Jehn, Jools Holland, joy division, Peter Hook, Post Punk, Public Image Ltd, Savages, Shacklewell Arms, Sharon Farrow, Sheilagh Tighe, shoegaze, Shy Illustrations, siouxsie and the banshees, The Woman In The Dunes
Similar Posts: