Abbey Lee Kershaw of Our Mountain, medical playing at the Stag and Dagger 2011.
I started my Stag and Dagger journey at Camp on City Road, ampoule a grotty basement venue with minimal light and sound. I was there to see the CocknBullKid, who is set to release her second album Adulthood on Monday, and with whom I have just done an interview that you'll be able to read next week. She has a name that is very at odds with her cute and slightly old fashioned demeanour, all flirty stage mannerisms.
We interviewed her many years ago for a profile in the print version of Amelia's Magazine and she's grown in confidence dramatically since I last saw her live, rattling through her highly danceable newest songs to the delight of the heavily female audience. But it was a real shame that the lighting was so bad, CocknBullKid's face hidden in deep shadow for the entire gig, with her legs instead enjoying the spotlight.
Then it was on to see Our Mountain in Underbelly, where a thin blonde girl in long robes was clanging a chain dramatically against a drum as lead singer Matthew Hutchinson yowled centre stage.
The gothic girl may have looked like an elf from The Dark Crystal but I was soon to discover that she's actually a famous model from Australia called Abbey Lee Kershaw, a catwalk star who has worked for the likes of Gucci and Chanel. Which would explain why lots of people wanted a photograph with her post gig. Her boyfriend Matthew is an ex model himself and wasn't so bad on the eye either.
The thrashing psychedelia of Our Mountain was delivered with great panache – definitely ones to watch.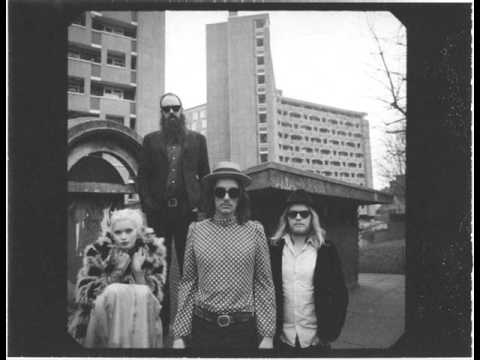 Current single: Wooden Hearts.
From there we attempted to see perhaps the most famous band of the festival, New Young Pony Club over at The Macbeth (another Amelia's Magazine find back in the day) but were unable to get in, so then it was back to Underbelly for Marques Toliver, a former busker from Brooklyn who sings and plays the violin, using it to pluck out a simple back beat over which his gorgeous soulful voice carries the melody.
It was a beguiling show and the packed audience listened in near silent rapture.
I'm a bit partial to danceable indie electronica with a good melody so it was good to round off the evening with a bop to James Yuill back at Camp, where he performed amidst his bedroom ensemble of keyboards, drum machine and guitar. He thoroughly endeared himself to many of the male audience members by calling himself a bit of a dick. For my part I was utterly transfixed by the beautiful coloured visuals.
This year Stag and Dagger was much more lo fi and all the better for it – gone were the hoards of pissed up city boys, replaced by true music lovers. It's a great place to discover little known and up and coming talents – here's to many more Stag and Daggers to come…
Categories ,Abbey Lee Kershaw, ,Adulthood, ,australia, ,camp, ,CocknBullKid, ,James Yuill, ,Marques Toliver, ,Matthew Hutchinson, ,model, ,new york, ,New Young Pony Club, ,Our Mountain, ,shoreditch, ,Stag and Dagger, ,The Dark Crystal, ,The Macbeth, ,Underbelly, ,Wooden Hearts

Similar Posts: