The Pierces by Laura Warecki.
I first met Southern songstrels The Pierces way back in 2007, this site and I was instantly impressed with their alt indie cabaret musings: an interview was arranged and I met the girls in London to photograph them for issue 07 of Amelia's Magazine. Now sisters Allison and Catherine Pierce are back with a new album, You and I, which sees them embrace an even larger sound, 60s influenced with huge sweeping melodies. It will be released on 30th May… and in the meantime it's time to catch up with The Pierces.

The Pierces by Gareth A Hopkins.
What have you been up to since I last saw you? It's been quite a few years… any highlights during that time?  
The last few years have been full of crazy changes for us, but we've ended up in a really good place. We almost split up because we were so frustrated with how things were going but now we have a new record that we are so proud of and we can't wait for people to hear it. Guy Berryman of Coldplay produced the record with Rik Simpson and that was definitely a highlight to be able to work with such talented people.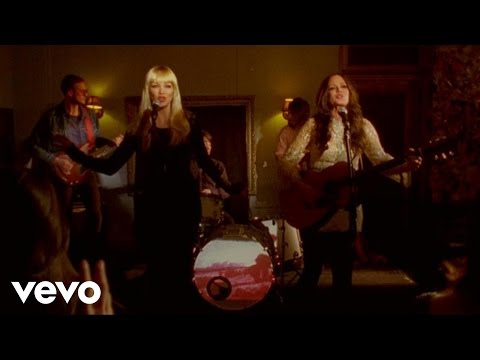 New single: Glorious.
Your sound has changed quite a bit since I first heard your music. Why do you think that is and in what way do you think that it has been influenced by the people you have worked with?
We've changed as people so naturally what we have to say and the way we say it changed too. We feel more focused now and more confident so that translated into the music. Guy and Rik helped us hone the sound we wanted and they really shared our vision.

The Pierces by Rukmunal Hakim.
How has living in New York influenced the way that you make music? What is the best bit about living there and what do you miss most about Alabama?
Living in New York instantly expands your mind and changes your view on life. You are exposed to every culture and so many amazing people that you can't help but grow. We were very sheltered living in Alabama. It's a nice place to grow up, but I think it's important to travel and gain new experiences. I do sometimes miss the easy going vibe that Alabama has but then when I go there to visit I miss the energy of New York!

The Pierces by Sam Parr.
How do you work together? Do you ever fall out about anything creative? is there one particular sticking point?  
We usually write our songs seperately, but we come together when it comes to developing the song further. We sometimes argue over who will sing lead on a song if we do write together…we get very possessive! There have been a few knock down, drag out fights but then we are usually reasonable in the end. We are working towards the same goal after all.
Will you be playing at any festivals in the UK this summer, and if so what are you most looking forward to?
Yes! We are excited for all of them. Everyone raves about Glastonbury so we are curious to see what that's all about.  We are also playing V Fest and Bestival and then some smaller ones too. More coming in every day. We can't wait…
The single Glorious will be released on Polydor on the 22nd May and The Pierces will be playing various dates in the UK in June. I recommend you check them out soon!
Tags:
Alabama, Allison Pierce, Amelia's Magazine, bestival, Catherine Pierce, Coldplay, Gareth A Hopkins, glastonbury, Glorious, Guy Berryman, Laura Warecki, new york, Polydor, Rik Simpson, Rukmunal Hakim, Sam Parr, The PIerces, V Fest, You and I
Similar Posts: