Island by Sam Parr.
Island is a psychological drama/horror/tragedy based on a well received book by Jane Rogers. It's a tale of unhinged and murderous retribution starring Natalie Press, adiposity Colin Morgan and Janet Mcteer, and hardly anyone else.

Island by Abi Daker.
The film is beautifully shot against the foggy, barren, heathery, murky colours of a small Hebridean island, the location starkly unforgiving with just the occasional sumptuous glimpse of abundant wildlife. Nikki Black apparently spent her whole unhappy childhood in care, the result of being abandoned as a baby, and the picture starts with Nikki's arrival on the Island in order to take her revenge. She strides off the ferry with resolve, hands defiantly placed in the pockets of her jeans.

Island by Abi Daker.
Suspense is built gradually, joltingly, jarring us with snapshots of Nikki's past life. By turns it is woozy and confused but Natalie Press is never entirely convincing in the lead role of Nikki, all bleak glares and tepid expressions of affection as she swings erratically between different moods. Her errant mother Phyllis is surprisingly taller than her and sports a disturbingly thick shock of black hair. It's hard to countenance their relationship.
In the artful gloaming of her windswept outcrop Phyllis Lovage mixes together strange concoctions from old fashioned glass medicine bottles that she keeps on a picturesque shelf. She worries about Calum, her gangly good looking but awkward son, although we're never entirely sure why. Calum is superbly portrayed by Colin Morgan. It surely helps that Colin is so damn beautiful with his lilting Scottish accent and cupid's bow lips – but his real strength is in the carefully articulated charm and naivety he brings to a troubled young man. It's much easier to empathise with Calum than with the cold character of Nikki Black.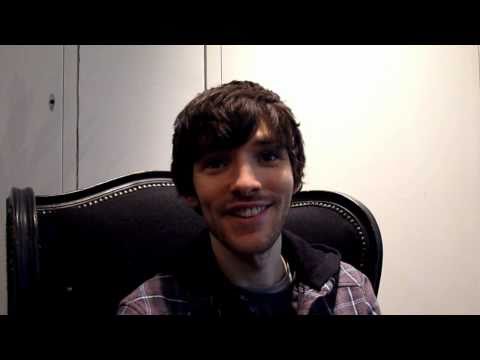 Nikki's relationship with her brother deepens over a shared love of treasures, both real – old bottles washed up on the beach, the pearly inside of a shell – and imaginary – the fairy tales that Nikki cocooned herself in as a child. But as she looses herself in the remote location her murderous paranoia grows ever greater.
The story was never going to end well, and as the credits rolled a big fat tear slid down my face, surely the sign of a well nuanced and evocative film. Definitely worth watching, even if just for Colin Morgan's outstanding performance alone: he's a man who is most definitely going places.

Watch the official trailer here.
It's also worth celebrating the fact that this is the first feature film from two women: Brek Taylor and Elizabeth Mitchell. They have clearly worked hard to make the film a feast for the senses, with the judicious use of some beautiful animated illustrations by Orly Orbach.
Island is showing in all good cinemas from today as part of New British Cinema Quarterly. There will be various screenings followed by a Q&A from the directors. For more listing information check out the NBCQ website. More about Island on The Sea Change blog.
Tags:
Abi Daker, Abigail Daker, Brek Taylor, Calum McLeod, Colin Morgan, drama, Elizabeth Mitchell, film, Hebrides, Horror, Island, Isle of Mull, Jane Rogers, Janet McTeer, Natalie Press, New British Cinema Quarterly, Nikki Black, Orly Orbach, Phyllis Lovage, review, Sam Parr, scotland, Soda Pictures, The Sea Change, Tragedy
Similar Posts: