Alex Gene Morrison's art can't help but attract attention. Despite being displayed on a backward-facing wall, mind purchase the second I walk into the 'The Future Is Now' show, website like this my eye is drawn straight to it. He is exhibiting three large canvases; each of a painted face, buy more about but it is the middle one that I find most conspicuous. The head, body and hair are hidden under a dense layer of matt black paint, leaving only a set of menacing eyes in the picture. The larger than life size does nothing to mask the unnatural peculiarity of Morrison's portraits either. My walk around, champagne glass in hand, takes me past the odd inspiring piece. Somewhere on a balcony above me I spy a tower of precariously balanced teacups that look fairly beautiful from afar. Still on the ground floor, however, I stop to admire a row of miniature portraits, skilfully painted in muted colours. Each displays a varying degree of abnormality – none of the delicate faces are by any means normal.
David Hancock's enormous, hyper-real landscape is definitely something to be seen. Vaguely reminding me of one of those children's T-shirts with unicorns, hills and fairy dust on, the canvas depicts a fantasy mountain scene, with wonderful skies and a dreamlike river. Hancock has chosen to makes certain parts of the canvas 3D, presumably using something lumpy like mod-rock to create an unsatisfying surface you want to reach out and touch.The piece that really stayed with me that evening though was by Alexis Milne.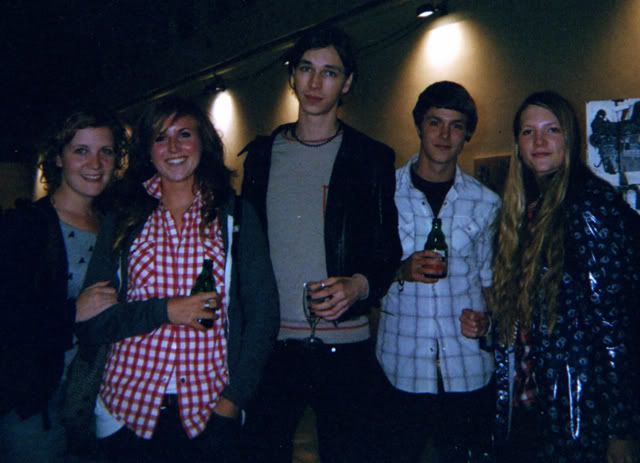 Whilst scanning some art on the other side of the room I caught sight of Amelia and the crew hovering around a small, darkly painted shack. On closer inspection I discover that inside the hut is the scariest clown I have ever seen, complete with tarot cards and a fake American accent. Pinned to the walls are various masks of animals and child-like paintings. The clown (perhaps Milne himself?) is reading Amelia's 'tarot cards' in his loud,phoney, and frankly creepy voice. He tells her that she is a horny schizophrenic. I decide I must also have a go while we're there. He wastes no time in telling me that I am to end up a chariot racing, lap dancer with a fondness of eating.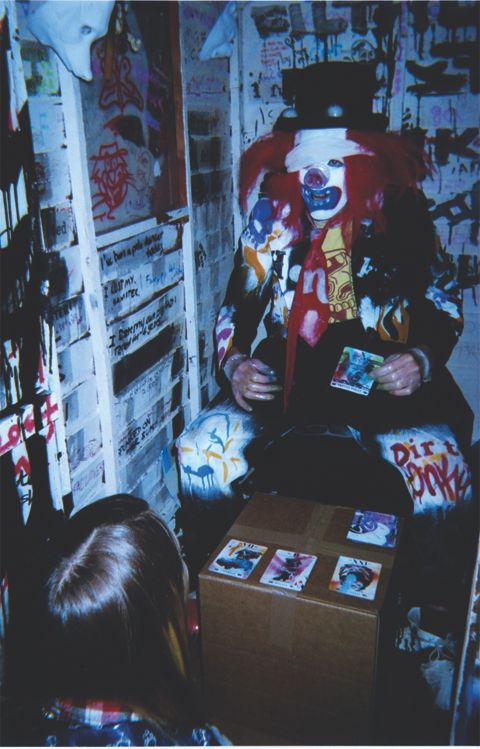 Hmm. He also makes me wear a creepy cat mask whilst talking to him, so I understand this is to be taken with more than a pinch of salt. On the whole 'The Future Is Now' show displays an array of style, quality and substance in the pieces they have chosen to exhibit. I am left feeling overwhelmed (it really is quite a big exhibition) but more importantly inspired.
Photography: Amelia innit!
Photo 1: Sophie, Anna, James and Tim
Similar Posts: