Elizabeth Lau by Madi.
The delightful Elizabeth Lau has quickly built up a strong reputation as a quirky and playful designer to watch. In this interview I discover how she started her label, what influences her designs, and what defines an Elizabeth Lau girl.

When did you complete your studies at UCA Epsom and how long did it take to set up your own label?
I completed my Fashion Design degree in 2000, and worked first as an assistant stylist and then as an accessories designer in Hong Kong. During this time, I realised that I enjoyed it more when I was designing for myself and then I knew I wanted to launch my own label. Once this decision was made, everything happened super quickly as I knew exactly how I wanted the branding to be. From conception to having the first collection ready was 5 months. Looking back, launching the brand was the easy part. Keeping the label growing has been a lot harder, especially when you are a self funded indie brand. I wouldn't mind having parents who own a factory or are in the fashion industry, as we probably wouldn't have made so many costly mistakes!

Elizabeth Lau S/S 2012 by Kenza Bennani.
Did you always know what kind of creative direction you would take?
In terms of branding, I always knew exactly how I wanted everything (logo, labelling, website and presentation materials) to look. All the graphics/web designers/artworkers we work with can testify that I am a control freak!! As for the design direction, I only design items that I would wear myself, so the brand is a true reflection of me, my loves and my personality. Very self indulgent but I have kept true to this throughout the life of the brand. The brand direction is always evolving as I am evolving as a person, but it still maintains its core values.

Elizabeth Lau S/S 2012 by Janneke de Jong.
Was knitwear always an integral part of your idea? What do you think makes your knitwear so special?
Initially we presented dresses, outerwear and a couple of cardigans. Although designing and pattern cutting dresses and coats was a real labour of love for me, over time it was clear that our knitwear sold much better and was what buyers honed in on. This had a big impact on the direction of the brand. Demand meant we could meet the factory minimums without having to pay a surcharge or order more than necessary, so we started to offer more knitwear as a result and work to this strength. I think our knitwear has done well because it is of good quality, offers something different to what is in the shops but is still wearable and well priced. I try and come up with some original ideas every season.

Elizabeth Lau S/S 2012 by Fay Newman.
What do you think defines the Elizabeth Lau look?
It is a contrast of sweet and cool, naïve yet chic. We came up with this definition a few seasons back and I think it really sums up the Elizabeth Lau London look.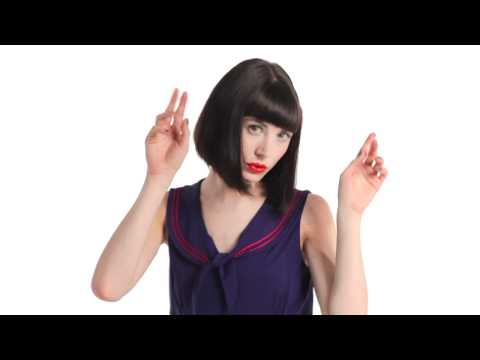 How did you choose the model Annie Monroe for your S/S 2012 video? What were you looking for?
It was a stroke of good luck! I tweeted I was model casting for the S/S 2012 video and the lovely Ellen Burney (contributing editor to Lula) suggested Annie Monroe. I was already a fan of The Like and their 1960s style. I was looking for someone who would be a natural in front of the camera and not afraid to dance, so I knew Annie would be perfect for the video. We were over the moon that she was in London and that she agreed to do it. Everyone in the team agreed she was a real star; ultra professional, chilled and easy to work with. She got the vibe of the video straight away and improvised all her moves on the day. Then the techie wizards Future Jim and Jamie Ace did their magic and voila!

Elizabeth Lau S/S 2012 by Hollie McManus.
What inspired the S/S 2012 collection and how do you filter these references into a unique offering?
S/S 2012 started off with our muse Olive Oyl (a childhood favourite) and grew from there… colours, ideas from the comic strip, the look of Olive and what I imagined her to wear now, and I guess most obviously a nautical theme and everything that comes with that mixed in with my signature style. I try not to over think it and inspirations are quite loosely interpreted.

What kind of girl enjoys wearing Elizabeth Lau?
I think it is girls who are individuals and appreciate clothes that are well cut, witty and fun. They are likely to be whimsical but also possess an inner confidence. My brand is not dictated by seasonal trends so they will wear Elizabeth Lau simply because they love it. I don't want there to be an age limit either, as girlish charm is something that remains with you always.

Elizabeth Lau S/S 2012 by Gareth A Hopkins.
Where can people buy Elizabeth Lau clothes?
Independent boutiques such as Fifi Wilson, Donna Ida, Amelie and Nola. We have stockists and a loyal following in Japan and the Far East. When I get around to perfecting it, my e-boutique will be opening sometime in February!
Tags:
1960s, Amelie, Annie Monroe, Donna Ida, elizabeth lau, Ellen Burney, Fashion Design, Fay Newman, Fifi Wilson, Future Jim, Gareth A Hopkins, Hollie McManus, Hong Kong, Jamie Ace, Janneke de Jong, Kenza Bennani, knitwear, Lula Magazine, Madi, Madi Illustrates, Nola, Olive Oyl, S/S 2012, The Like, UCA Epsom
Similar Posts: