Katzenjammer by Richard Parson.
Four Norwegian girls reinvent bouncy banjo folk with a dramatic cabaret influenced flavour and a distinctly Balkan twist? Yes please! Katzenjammer release their first album A Kiss Before You Go in the UK this week in advance of a busy summer touring around festivals across Europe. It's been a firm favourite on my playlist since I first heard it, and I can't wait to see these talented multi-instrumentalists live. In the meantime we asked the girls to interview each other – here's what they had to say.

Anne Marit answers to Sol

:
How do the other creative professions influence and affect the overall Katzenjammer offering?


It's important to find the right people to work with in other creative professions and during our career we've worked with different stylists, photographers, music video directors etc: we're very picky about what we want. That's why we do a lot of it on our own. Solveig is for example a fantastic painter and she's designed a lot of our merchandise and our logo as well. We also do our own styling. But – we've got a couple of music video directors and photographers that capture our universe and develop it even further which is essential to us. Most importantly, we get a lot of ideas both visually and musically from all sorts of art, anything from paintings, movies, clothes, dances etc. As long as it's a little 'off' and weird, it's a source of inspiration to me.



What do you like to create or do outside of music?


As long as I can make stuff with my hands I'm satisfied. I like to work with all sorts of textiles, wood and paint, for example making furniture and clothes. The last thing I made was a table out of pallets. And I must say that it turned out quite nice!



If you had to choose between always having cheez doodles fat on your fingers or constantly wear slalom boots on your feet for the rest of your life, what would you choose? (a reference to fat fingers caused by Scandinavian snack Cheez Doodles)


I think I would have to say cheez doodles fat on my fingers. I love to run and dance, I would get mental if the gigantic boots would rob me from doing that. Hate cheese doodles fat, but I could always wear gloves…


If you had the possibility to transform into a super hero for 30 minutes and you could pick 3 superpowers, what would those be and how would you spend the 30 minutes?


First of all, FLY SUPER FAST!! I always dreamt of doing that as everyone has I suppose. I'd take my loved ones and give them a tour through the clouds. Be INVISIBLE and walk straight into NASA or Area 51 and places like that to find out if there´s been any encounters with UFOs or other unexplainable things. Be an ANIMAL WHISPERER so that I could communicate with all kinds of animals and maybe they can tell me a thing or two that helps me to get them a better life.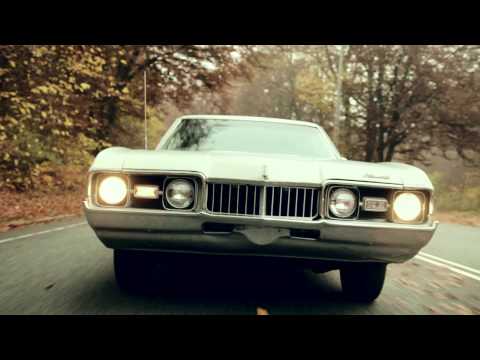 Rock Paper Scissors
Sol's answers to Marianne

:
How do the other creative professions influence and affect the overall Katzenjammer offering?
We are a very visual band so we want our stage outfits to emphasise our music, hence the variation in colours and looks on each girl. Our music is very eclectic and so is our visual expression. I sew my own outfits since I can´t find anything in the stores that fulfils what I want to express. I let myself be inspired by photos, movies and fashion from any decade and different cultures. Right now I´m inspired by Cowboys and Indians and my childhood activities, such as skating. Weird and interesting combinations. We have always let ourselves be inspired by images and visual stuff. We can make a song, just by watching a movie or a picture or explaining a cartoonish image for each other. A dancing skeleton, you say? I know what that song sounds like!

What do you like to create or do outside of music?

Here´s my imaginary world: I´m a city planner and I have created a village, just outside Oslo. All the cars are parked in a garage under the ground and an elevator leads you to the village. Everyone who lives here has designed their own house and mine is shaped like a lighthouse. We all help each other out in our daily life and contribute with our skills. I´m a linguist, a tailor, an artist, a baker, an animator, a stylist and an aviculturist, and it´s extremely easy to combine all these occupations. And I would have a lot of spare time to read books and eat cheese and crackers.



Katzenjammer by Adopted Design.
Choose between the following: Never eat chocolate again vs always having access to a symphonic orchestra?


Ouch! That´s evil, Marianne! Chocolate is my heroin and music is my soul! I just bought a chocolate fountain yesterday, so that´s how hardcore I am. My all time dream was to play in a symphonic orchestra and my most intense musical experiences have been while listening to one. But I have to stick with the chocolate, I just cannot leave it, my life would be poor. I could always rent a symphonic orchestra. I remember I was thinking a lot about war when I was a kid. And my main concern was: 'What would happen to me, if we became involved in a war, and there would be no access to chocolate for several years?'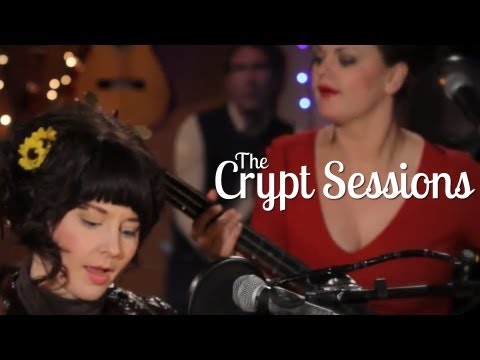 I will dance (when I walk away) – The Crypt Sessions
Be bald for the rest of your life vs have sex with Margaret Thatcher?


I sometimes have dreams about losing my hair, and it´s like a nightmare. Same feeling as losing all your teeth at the same time, I often dream about that, too. Sex, schmex, I would always be able to repress a sexual act with someone: Margaret would be a tough one, though, but if I could be the one that inflicted some traumas on her, it would be worthwhile.



Marianne's answers to Turid

:
How do the other creative professions influence and affect the overall Katzenjammer offering?
The way I see it, Katzenjammer's distinct sound, appearance and clothing have become what it is because we never deliberately aimed for a certain anything. But after we started travelling as much as we do, I believe both our music and style has developed. To me, the places I visit or people I meet along the road, are what influences me the most, together with movies and old times.



What do you like to create or do outside of music?


I love to cook. It's the closest thing I get to meditation. Sauces have become my specialty. And chocolate buns, they're actually famous here in Norway. Photography has also become a passion. If I didn't spend all my money on music gear, I'd probably spend it on camera gear and gadgets. I also redesign furniture. My current project is making an old radio into a nightstand.



If you had to either stop watching (TV) series' or stop making your delicious chocolate buns, what would it be?


Stop watching series. Making other people happy is more important, and those buns are probably an answer to world peace.


If you had to choose a typical male profession, what would it be and why?


President of the USA. Cause it's about time.



Turid's answers to Anne Marit

:
How do the other creative professions influence and affect the overall Katzenjammer offering?

I get very much inspired by films and series. Tim Burton and Emir Kusturica films are my favourite. They are very different but I like the atmosphere, the music, and the mood in their films. Tim Burton has the dark mystic mood and the clothes in his films are just fantastic. Emir Kusturica has a dark humor and craziness that I just love, and fantastic music. Right now I'm watching Mad Men, and can feel that I´m getting dragged a bit towards that style. It´s fun to change for periods and also mix the styles. Also old films are very inspiring when it comes to clothes and music. Actually, I think our clothes reflect our music very much. All of us like retro clothes, but we also like to combine it with new stuff!



What do you like to create or do outside of music?


I like very much to make my own food, and I have a little hobby going on that involves experimenting with making healthier versions of different groceries. (There is too much shit in most of the food you get in the stores!) I also like to crochet and have made very many beanies for friends and family. It´s the gift I give the most, I think they all have one now. If playing squash, doing yoga and running around in the forest are hobbies I have to add them!


If you could choose between all the professions in the world (besides being a musician), which one would you choose and why?


I would like to work with children and youth in some way. Either in an institution or maybe most of all set up my own camp for youth who have problems and need inspiration. I'm dreaming about having a little farm with my boyfriend, where we can have some animals – hens, a goat or two, cats, maybe a horse and dogs. Lots of dogs! I wanna breed dogs. We also wanna have activities like squash, climbing, yoga and forest track. And of course a music room with lots of instruments. We also wanna grow our own organic vegetables and make healthy food. The children will be able to participate in all the activities on the little farm. Well, to combine this with being a musician would be great :-)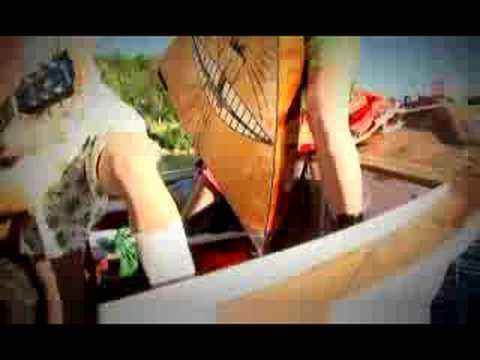 Ain`t no thang
Can you describe what ingredients you put into Katzenjammer's big melting pot, both musically and socially?


The genre that is most clear from me is the Balkan music, I loooove Balkan music! But I´m also putting folk and rock and probably a bit more into the pot. I´m not very good at music theory, so I have my own way to attack the music. I like to think that is good, although it would be nice to know a bit more some times. Socially I like to have fun, and laugh very often. I like to think that I respect the people around me, and I try not to step on any toes. I don´t like injustice, that provokes me. But I think it is easier to fight for other's rights than my own. I´m practicing fighting for my own, but then I often feel bad afterwards and have to ask some of the other girls if I did something wrong. I think my way of taking care of the other girls is to stop the race if anyone is ill or very tired. I don´t like to see that the other people around me struggling. If we have discussions I often get very restless. I just want to find a solution and not talk and talk for ever! So then I can maybe be a bit short. I´m very energetic and happy. And if you give me liquor and Balkan music it´ll seem like a have taken a pill or something, and I´ll dance until the sun gets up – HOPP HOPP HOPP!
A Kiss Before You Go is out now on Propeller Recordings – it's ace!
Catch Katzenjammer on a headline tour of the UK during the month of May!
Thu 17th BRISTOL, Academy
Fri 18th MANCHESTER, Academy
Sat 19th GLASGOW, King Tuts
Sun 20th BIRMINGHAM, Academy
Tue 22nd BRIGHTON, Concorde
Wed 23rd LONDON, XOYO
Tags:
Adopted Design, album, balkan, Banjo, Emir Kusturica, folk, interview, James Round, Katzenjammer, Mad Men, Norway, Norwegian, Propeller Recordings, Richard Parson, Rock Paper Scissors, tim burton
Similar Posts: