Continuing a run of blogs about brilliant animated music videos, check out this treasure from multi-disciplinary designer Britta Johnson. In November last year American folk musician Laura Veirs released Tumble Bee, an album of children's songs old and new inspired by the birth of her first child last summer. The video for King Kong Kitchie Kitchie Ki Me O was animated by Britta Johnson with a cast of curious characters in colourful watercolour glory.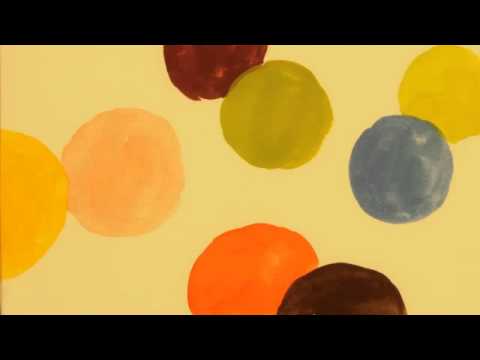 Hi Britta, I love your video for Laura Veir's new single: How did you set about creating it – and where did you look for inspiration?
Hi, thanks for your interest! I knew I was going to have limited studio space for a little while, so I thought I might try my hand at drawn animation, which I could do at a small desk. I wanted to do something colourful and loose, and was reminded of this great Swedish children's book I had as a kid, Lilla Blå och Lilla Gul, which means "little blue and little yellow." It's about two blobs of colour that meet and have an adventure.

Did you know the song before you started working on it?
I was familiar with the song, but hadn't paid very close attention to the lyrics before.

Do you have children, and if so do they inspire your creations?
Nope! Child free. I have friends with pretty fun kids, though.

The characters are really wonderful – can you tell us about them?
The characters came partly out of experiments with colour and partly out of figuring out a way to tell a story about courting and violence for children that would get across the different modes of engagement without losing focus or letting the quantity of characters getting out of hand. The work I do isn't usually this character-y; it was a fun divergence.
   


What kind of media did you use to create this animation, and why did you choose it?
I used gouache on paper, which I hoped would feel both rich colour-wise and organic texture-wise.
 


The colours you use have a wonderful quality – do you find yourself drawn to specific colour ranges and if so why do you think this is?
I wanted a palette that was colourful, and warm, and maybe a little silly. I tend to use a lot of marbles in my movies, and about halfway through making this, I realized I was drawing the 2-dimensional equivalent of marbles, so the colours may have a vague connection to my marble collection.

You work in a variety of media – one video you made for Andrew Bird featured bugs made out of lots of found objects and Lost at Seaflower Cove is entirely shot on super 8 film – how do you move so smoothly between different mediums?
The basic rules of animation are pretty much the same no matter what materials you're using; the fun part is working out the particulars of how to move the stuff to serve the project well.

You've worked with some great musicians – what has been a personal highlight?
I've been lucky to have been invited to work with really talented people and really great songs, as a director as well as a team member, so it's hard to pick a favourite.

Do you have any exciting plans for 2012 that you can share with us?
I just had an art show with a bunch of animated loops I made out in the landscape, and I hope to show them around further; no music videos on my plate right now, but we'll see what happens! Thanks again for checking out my work!
Tumble Bee by Laura Veirs Sings Folk Songs for Children is out now on Bella Union. You can see more of Britta Johnson's video work at her website.
Tags:
Andrew Bird, animation, Britta Johnson, Family Folk, folk, King Kong Kitchie Kitchie Ki Me O, Laura Veirs, Laura Veirs Sings Folk Songs for Children, Lilla Blå och Lilla Gul, Lost at Seaflower Cove, Tumble Bee, video
Similar Posts: