For Folk's Sake Christmas 2011. Cover illustration artwork by Amelia's Magazine contributor Amber Cassidy.
Possibly my favourite Christmas album amongst a bumper crop is the collaborative effort from For Folk's Sake, which has been on rotation for the past few weeks to get me in the festive mood: I couldn't possibly pick out a favourite tune, but watch out for the jolly Christmas Mistakes by The Leisure Society which implores everyone to set aside those differences just for one day. 'Will Christmas cheer succumb to civil war?' it asks. Caitlin Rose teams up with Keegan DeWitt for the bittersweet You Never Come Home For Christmas. Cocos Lovers do a fine job of covering a pair of carols with harmonised folk style.

Love In A Cold Climate by Jason Munro.
Darren Hayman contributes Lost in the Snow: you can view the video in my previous Christmas tunes blog. In the Bleak Midwinter (fast becoming the most commonly covered Christmas ditty) gets the Paper Aeroplanes treatment – whose singer Sarah Howell sounds eerily like Janet Devlin of this years X Factor, or should that be the other way around? Either way, it's an utterly beautiful rendition of this classic carol.

A Little Donkey On A Surfboard by Dickon Langdon.
Kathryn WIlliams sings of Christmas in Hell with Neill MacColl, where 'shops are all heaving with crap they can sell.' Brilliant and timely. Howard Carter, Devon Sproule, Fiona Bevan, Hollows, Adam Killip & Mi Mye and Laura Boyle also contribute their festive fare: believe me, every tune on this compilation is an absolute corker. Sadly the hard copies have long since sold out but you can still get this gem as a download: very recommended, especially since sales benefit The Integrated Cancer Centre. And if you've come over all Scrooge like you can listen to it as a stream too. Make sure it's on your stereo this 25th December.

Emmy the Great and Tim Wheeler (of Ash) get together for This is Christmas, which opens with the jaunty Marshmallow World and is followed by the similarly upbeat duet Snowflakes, before Emmy takes main vocals on the 50s inflected Christmas Moon.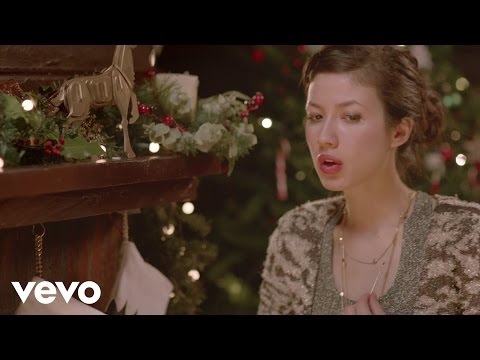 Things continue in a bouncy vein, with a particular highlight being Home For The Holidays – which tackles those peculiarly Christmas feelings: of yet another year passing, seeing people from your past and old romances reigniting. And do listen to Zombie Christmas – 'I hate this time of year'. A fab album.

Smith & Burrows is a collaboration by Tom Smith (Editors) and Andy Burrows (ex Razorlight and We Are Scientists). Funny Looking Angels opens with a very bleak version of In the Bleak Midwinter, leading on to the melancholic single When the Thames Froze which is accompanied by a suitably shivery winter video and lyrics pertinent to our depressed times 'God damn this government, will they ever tell me where the money went?' Listen to the whole album streamed here.

Winter Wonderland by Fay Newman.
Amongst the more bizarre choices for cover treatment are Black's upbeat Wonderful Life and Yazoo's Only You, both of which are brought back down to earth with a gritty bump. The album ends with The Christmas Song (with Agnes Obel) which in Smith & Burrows' hands becomes a disconsolate view of the usual Christmas fripperies. Here's to Christmas in the UK!

Kirsty Almeida by Alejandra Espino.
Kirsty Almeida has teamed up with The Troubadours to put together a whole album of wintery tunes, which was sent to me in a beautifully wrapped package.

Tracks include Merry Christmas Let's Have Fun, featuring the traditional festive chorus of children. All I Want For Christmas is a gorgeous cover of the Mariah Carey classic that showcases Kirsty's soulful voice. White Christmas brings in some lush harmonies with the odd twinkle of sleigh bells and by Just Cancel Christmas the sleigh bells are in full effect. Buy Winter Songs online here.
Have a fantastic holidays everyone. See you in 2012.

8 singers of Christmas by Laura Millward.
Tags:
Adam Killip & Mi Mye, Agnes Obel, Alejandra Espino, All I Want For Christmas, Andy Burrows, black, Caitlin Rose, Christmas, Christmas in Hell, Christmas Mistakes, Christmas Moon, Cocos Lovers, Darren Hayman, Devon Sproule, Dickon Langdon, Editors, Emmy the Great, Fay Newman, Fiona Bevan, folk, For Folk's Sake Christmas 2011, For Folks Sake, Funny Looking Angels, Hollows, Home For The Holidays, Howard Carter, In The Bleak Midwinter, Janet Devlin, Jason Munro, Just Cancel Christmas, Kathryn WIlliams, Keegan DeWitt, Kirsty Almeida, Laura Boyle, Laura Millward, Lost in the Snow, Mariah Carey, Marshmallow World, Merry Christmas Let's Have Fun, Only You, Paper Aeroplanes, Razorlight, review, Sarah Howell, Smith & Burrows, Snowflakes, The Christmas Song, The Integrated Cancer Centre, The Leisure Society, The Troubadours, This is Christmas, Tim Wheeler, Tom Smith, When the Thames Froze, White Christmas, Wonderful Life, X Factor, Yazoo, You Never Come Home For Christmas, Zombie Christmas
Similar Posts: