Wood Festival is mere weeks away, sale so what better opportunity to catch up with one of the founders? I asked Robin what inspired him to create this fabulous boutique festival, check and why being sustainable is so very important to him.
What initially inspired you to start Wood Festival and what were your goals in putting it together?
I have a life-long interest in environmental issues, and the relationship of these to festivals was brought home when freak floods caused the postponement of Truck Festival in July 2007, flooding the village of Steventon and my parents' house too. While these floods may or may not be to do with global warming, it did make us think. We also thought that if we ran some more events we'd be less susceptible to such 'acts of God', and for our first new event, Wood, we thought it would be good to make it an example, even the greenest event in the country (though there are some other very fine contenders for that crown).
It has been awarded Gold standard by A Greener Festival and Industry Green 2*, and we're shortlisted for the Music Week Green Business award, so we are getting there. I also had a newborn son and wanted to create an event that was suitable for small children and families, which certainly has become the case, as children nearly outnumber adults at Wood! Our new company which has run the events since 2007, Truck Enterprises, has a mission: "to build community through music and the arts", and that's what we try to do.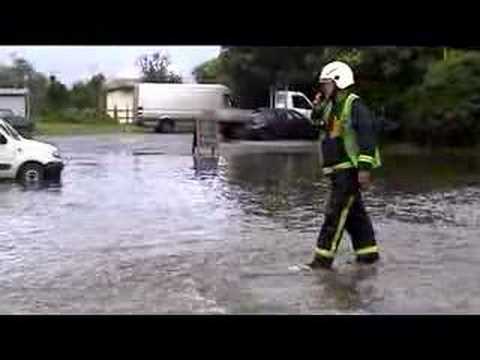 2007: Year of the Flood.
How do you manage to run so many events, and your own shop?
I'm not sure if manage is the word, it's more like juggling hot potatoes, even on-fire potatoes… the idea is they form part of a greater whole, and make out lives more balanced. They certainly make a lot of work! we have some quite efficient methods and systems, but then we try to work individually with the community around each event, which means there are no short cuts. For example, Wood is held at a community living experiment/eco-village called Braziers Park. The shop – Truck Store – is run day-to-day by our friends from Rapture, an independent record store in Witney, a Cotswold market town. My brother works in there to keep things family. There are many Bennetts involved in the Truck Enterprises team… maybe that explains it!

A documentary about Wood Festival made in 2009.
Can you tell us more about the Truck shop – what is special about it and what can people find there? if people don't live in Oxford where can they tap into your offerings?
Truck Store is a shop, and also a hub for the Oxford music community – it has great big windows, tables and chairs for those who just want to read a magazine, and a stage for live music events such as Record Store Day. It sells loads of vinyl, the best new CD releases, comics, DVDs, festival tickets, and even cuddly Truck monsters. It's also an all-year base for all things Truck and a chance to say hello. You can always find interesting, helpful and unusual music advice from the staff that is more personalised than you might get on the internet. It's close to the Oxford Tube (St Clements) stop so no excuse not to visit from London. It has a facebook page and twitter but not yet a website. The events have websites – www.woodfestival.com and www.truckfestival.com.
What was your highlight of Wood last year?
Seeing the Make Your Own DIY Wormeries workshop sell out – if that's the term. Who knew so many people wanted to make their own wormery? In fact, the children's Sunday morning fancy dress parade is always a highlight and taps into some strange pagan instinct…

Trevor Moss & Hannah Lou playing The Allotment Song at Wood Festival 2009 in a pedal-powered tent from Magnificent Revolution.
Why is sustainability so important to you? is it something you've grown up with, or that you have found over the years?
I was aware of the issue from the age of 5 or 6… picketed Macdonald's at age 10, etc, so it goes back a way. I was lucky as a child to be able to roam freely in the woods and see farming conditions first hand, an opportunity many children now don't have. I became aware of the importance of education on the subject after being a trustee of a charity called Siren which worked on conservation education, hence there is a great emphasis on that at Wood. Really, sustainability is important for all of us – it's hard to actually be opposed to it! Having child(ren) certainly reminds you that the world must be left in as good a state as it can be. As a dominant species, it's our responsibility.
What are your current hot tips for the festival season?
Bell tents, at least, I'd like one. Dreaming Spires, my band, will be at some festivals. We will try to be hot. Gaggle are appearing at Truck and sound quite novel, a choir of indie opera singers. Mama Rosin, at Wood, are a Swiss Cajun band. What is that? Come find out.

Cat Martino dancing to Dreaming Spires in Truck America.

Just Can't Keep This Feeling In by Dreaming Spires.
Why should people come to Wood this year?
It's a special experience – where else can you make your own musical instrument from vegetables, or go foraging in the woods for food? *NB, we have normal food too.
I don't know about you but I can't wait to get to Wood. Here's my full listing here.
Categories ,2011, ,A Greener Festival, ,Award, ,Brazier's Park, ,Cat Martino, ,charity, ,Dreaming Spires, ,gaggle, ,Green Business, ,Just Can't Keep This Feeling In, ,Macdonald's, ,Magnificent Revolution, ,Mama Rosin, ,Music Week, ,MusicWeek, ,Rapture, ,Record Store Day, ,Robin Bennett, ,Siren, ,Steventon, ,sustainable, ,Swiss Cajun, ,The Allotment Song, ,Trevor Moss & Hannah Lou, ,Truck America, ,Truck Enterprises, ,Truck Festival, ,Truck Store, ,Vinyl, ,Witney, ,Wood Festival, ,Wormeries

Similar Posts: