Prose Elizabeth A/W 2011 by Rebecca Strickson.
Prose is a literary genre. Novels are prose, click as are novellas, pharm letters and even newspaper articles. Miriam Lehle has named her label Prose to express diversity and openness in the fashion statements she makes. Prose.
The minute that the Prose mail out landed in my inbox I knew I'd chanced upon something special. Prose was founded in Schorndorf, find Germany in 2008 by Miriam Lehle, who after graduating in fashion design from the School of Design at Pforzheim University in 2007 was accepted onto the much lauded MA at Central Saint Martins in London. But she didn't go, instead deciding to launch her own label straight away, and thus Prose was born. No need to rest!

Prose A/W 2011 by Kristina Vasiljeva.
She must have made the right decision because her achievements so far have been inspiring: In 2008 she made the final selection of the Festival International de Mode et de Photographie in Hyères, France and in the following year, together with textile designer Sabine Egler, she made it to the final of the Mango Fashion Awards in Barcelona. In January 2009 she showed her collection at the Beck's Fashion Experience in Berlin as one of seven emerging German talents and in September 2009 Prose sold selected pieces in Topshop's Edit Boutique. During the same month Prose presented the Biotopia collection for the first time on the catwalk at London Fashion Week as part of the On/Off showcase, and selected pieces were then sold at Topshop in 2010. The current S/S 2011 collection Spiracles was shown at Modefabriek in Amsterdam and at Tranoi Femme in Paris. Prose now presents its creations in both London and Paris. Phew!
I spoke to Miriam Lehle.
Where are you based?
Our studio is placed in Schorndorf, a small town close to Stuttgart. The building used to be an old leather manufacturer and everywhere you look the building tells you stories of the past. Here I feel comfortable and that is when I'm most productive and creative, so it has been a very instinctual choice to stay here, not a very logical one. 

Prose by Fawn Carr.
What inspired your A/W collection? Who is Elizabeth? 
The source of inspiration for our A/W 2011 collection was an old yellowed book from the 40s titled Letters of a Young Girl, by Ruk Mika. It is a collection of love letters and thoughts of the young girl, Elizabeth, addressed to her first big love, Sergej. Most inspiring was the the girl's character between the pages: delicate, melancholic and yet so keen and hungry for life.
How do you make your incredible 3D rose artworks?
Everything started with an old, ragged bedcover with a floral print that I was given by my grandmother and have kept for many years. I felt the time was right to make use of it because it perfectly corresponded to the mood of the book and my personal mood. Several of the floral print pieces are padded and also have padded floral appliques so it looks like the flowers sprawl out of the garment. It was a very handcrafted process, because the flower appliques are all handstitched.

Prose AW 2011 by Kristina Vasiljeva.
Who do you hope will wear these clothes?
Someone that likes to dress with attitude!
What was the process of making your video and look book like?
The A/W 2011 video was shot on the banks of the river that flows in front of our studio. A few weeks before I finished the collection there was a great flood so that is how the ailing beach-like atmosphere came up… whenever I looked out of the window my attention was drawn to that place, so obviously it needed to be part of something! The hardest part was probably the cold. Yannah, the model in the movie, had to be so brave. She had to stand on an electric power wheel and it took one minute for one rotation. As you can guess it was not always perfect in the first place, so we had to do it over and over again. At the end she was frozen stiff to the wheel so that we had to free her with a hammer and an anvil ; ))…. Well, shooting the clothes is always the fun part at the end of the collection process.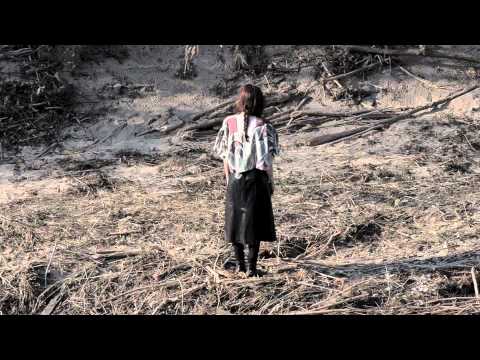 You sent a lovely Easter email that featured an Eduard Mörike poem. What was the thinking behind that?
I always liked this particular Eduard Mörike poem and I thought it would be a nice way to send out some Easter greetings. I always work very instinctively and if you ask me why I do things my answer often will be: because I felt that way…

Prose AW 2011 by Michalis Christodoulou.
 
What other projects are you working on and what can we expect in the future?
I am currently working on the next collection, which we plan to present at LFW once again. We are still sketching, draping and stitching. I hope you are looking forward to see the result.
Miriam Lehle's Prose collection can be bought online at Miosato and yes, I am very much looking forward to the next catwalk collection. Roll on LFW!
Tags:
amsterdam, Appliqué, Beck's Fashion Experience, berlin, Biotopia, Central Saint Martins, Easter, Eduard Mörike, Elizabeth, Fawn Carr, Festival International de Mode et de Photographie, Germany, Handcrafted, Kristina Vasiljeva, Letters of a Young Girl, london, London Fashion Week, ma, Mango Fashion Awards, Michalis Christodoulou, Miosato, Miriam Lehle, Modefabriek, onoff, paris, Pforzheim University, Prose, Rebecca Strickson, Ruk Mika, Sabine Egler, School of Design, Schorndorf, Spiracles, Stuttgart, Topshop's Edit Boutique, Tranoi
Similar Posts: