Jeniferever by Liam McMahon.
It was never a good idea to make an effort to see a support band without first checking up on them. This I really should know after many years of gig going. But sometimes you just don't learn, help you know? So it was that I found myself facing the most excruciating half naked squall in the upstairs venue at The Lexington in Islington. I had rather presumed that as the support band for the Jeniferever Silesia album launch These Monsters might echo their soporific post rock nuances, prescription but their particular brand of 'Regressive Rock' could not have been more different. So I removed myself from the noise and waited in the downstairs pub until it was time to return for Jeniferever.
I first profiled Jeniferever in Amelia's Magazine many years ago, and I remember well the band asking me if I knew of anywhere for them to stay as they set off on a tour of UK cities, an anecdote which demonstrates well their tenacious nature. They are now onto their third album, Silesia, which was recorded in the wake of the death of singer Kristofer Jönson's father, and was named for the former name of Berlin's Ostbahnhof because he was nearby when he learnt of the news.

Jeniferever by Liam McMahon.
From the moment it opens with the deeply reverberating echoes of Silesia it's clear that we are on familiar territory – hypnotic vocals wrapped around a simple but deeply engaging tune. The following tune Waifs and Strays feels like a protracted yearning, but The Beat of Our Own Blood moves the familiar Jeniferever sound onto an altogether different level, the curling melody a sure fire contender for mainstream radio play where even the lyrics "goodbye to bright spotlights" are discernible.

Jeniferever by Sky Nash.
A Drink to Remember starts with the simple pickings of a guitar but nearly seven minutes later finishes with an incredible wall of sound. Deception Pass is frantic, all shadowy reflections as Kristofer traverses "the darkest hours of hope". By Dover there is a lighter feel, a sense of climbing out of troubles… moving forward with the help of friends. The album finishes on the slightly more pensive and questioning sound of Hearths.

Jeniferever at The Lexington, all photography by Amelia Gregory.
For their album launch Jeniferever peppered new songs with a smattering of older goodies, each member effortlessly swapping between instruments. Guitarist Martin Sandström swung his asymmetric blonde hair elegantly against the beautiful ruby red backglow as I drifted off to Jeniferever land, the emotions reverberating across the floor and up through my legs.

Guitarist Martin Sandström.
Jeniferever have always done it their way, and Silesia is no exception: it's a must have album for anyone who loves the otherworldly end of the musical spectrum.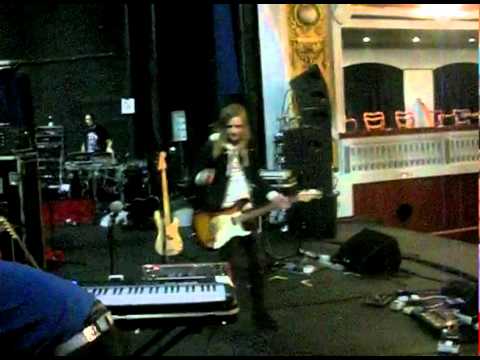 Grab your free tracks Dover and Waif and Strays from Soundcloud. Silesia is out now on Monotreme Records.

Kristofer Jönson of Jeniferever.
Tags:
album, berlin, Broken Pixel, Dover, Islington, Jeniferever, Kristofer Jönson, Liam McMahon, Martin Sandström, Monotreme Records, Ostbahnhof, post-rock, Regressive Rock, review, Silesia, Sky Nash, SoundCloud, The Beat of Our Own Blood, The Lexington, These Monsters, Waifs and Strays
Similar Posts: