Gazelle Twin live at Electrowerkz by Claire Kearns.
A peek through closed doors reveals a shrouded figure, thumb but soon rehearsals are complete and we are beckoned inside by two blue robed dancers in fencing masks with blue LED lights wrapped around their fingers. Gazelle Twin, aka Elizabeth Walling, wraps her music in an artistic veil: enhancing and enthralling with glimpses of feelings, ideas, not distracted by mere humanity.

Gazelle Twin, The Entire City album launch. All photography by Amelia Gregory.
Back to us, she rocks back and forth behind the microphone in a shapeless ruched grey coat dress, her blue head buttressed outwards like a Geisha's. The turn is slow as she faces the audience with black tear trails down both cheeks, eyes hidden by a lengthy black fringe. If proof were ever needed that covering up can be far sexier than letting it all hang loose then this was surely it, though I know this is not her intention.

Gazelle Twin by Andrew Thomson aka Sector 4.
The crowd is eager and expectant, leaving just a small amount of room for the fencing dancers to twirl beneath the stage. On either side Elizabeth is flanked by keyboardists of indiscernible gender who sport chain mail headdresses. Behind her an ominous drumming duo kept synchronistic beat in black: high heads revealing no facial features, white bike lights rocking back and forth like third eyes.
As the high lighting pulses red, blue, red, Gazelle Twin sways, fingers lit up individually as they clasp and unclasp, exalting the heavens… emotions running out of her arms into the universe, transmitted via frenzied mouth movements.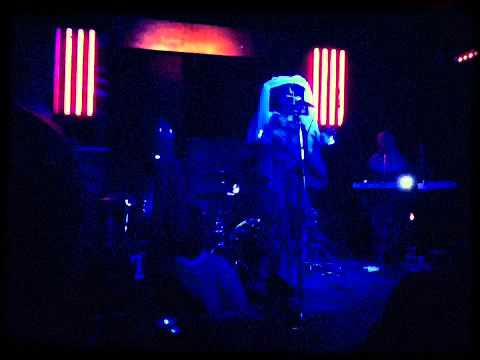 Changelings live at Electrowerkz
It takes a mere half hour or so to plough through the whole of The Entire City, but throughout Elizabeth keeps the audience entranced, her high clear vocals an animated vortex of wonder. There are no added theatrics, no egotistical posturing, yet the effect is all encompassing: this evening I am a witness to something incredibly special. Just imagine what Gazelle Twin could achieve with the aid of a bigger budget and patronage from sympathetic designers.

Interactive album imagery by Champagne Valentine.
The Entire City is out now on Anti-Ghost Moon Ray Records. Make sure you read my review and my interview with Elizabeth Walling too.
Tags:
Andrew Thomson, Anti-Ghost Moon Ray Records, Champagne Valentine, Changelings, Claire Kearns, EKO London, Elizabeth Walling, Gazelle Twin, Geisha, Sector 4, Shroud, The Entire City, Veil
Similar Posts: