The Raincoats by James Shedden.
The Raincoats are an all girl band who formed during the late 1970s and split up in the mid 1980s. I was very little at the time of their original releases so unfortunately I did not discover The Raincoats until much more recently, online well into my adult years. The band had an exciting can do attitude that melded punk, see classical and reggae influences into spiky arrhythmic folk punk tunes that even today sound way more exciting than many current bands. They reformed in the mid 90s after a resurgence in interest thanks to gushing plaudits from Kurt Cobain and are now widely hailed as one of the seminal post punk bands. I catch up with founders Ana da Silva and Gina Birch as they gear up to rerelease their second album on its 30th anniversary.
Why did you decide to reissue Odyshape now?
ANA:  This year is the 30th anniversary of this album. So, as we like anniversaries, we decided to release The Raincoats and Odyshape on their 30th… We remastered the albums for Japan and re-did the art work so it would sound and look the best possible. We now own the rights to them and, as they should be available, we thought we'd release them on our own label We ThRee. Both on CD and vinyl. They look and sound the best ever! Theyl also have a booklet and A4 sheet respectively with liner notes, lyrics, photos and a piece of writing from me on the 1st album and from Gina on Odyshape.

What does Odyshape mean?
GINA: The title was a pun on the odyssey of a body. The idea that a body could have an ideal shape and it if did, what happens when a body doesn't live up to that ideal. It was at a time, when (as probably now) there seemed to be a body fascism. It was important for women to be this shape or that shape. Thanks to people like Beth Ditto, and hopefully The Raincoats, things have been broken down a little. Hair can be crazy, messy, outfits can be baggy or tight, inside out or upside down, we can be fat or thin, creative, playful, stylish and beautiful without having to subscribe to some fashion mag ideal.

You formed the original band whilst still at art college… how did your studies in art influence how you made music?
ANA: Besides the obvious side of art work, I think we're trying to do what art should do: create works that inspire other people, that question the status quo, that express ideas which come from our own minds and hearts and also works that look at the human condition and provide some comfort to the listener.

The Raincoats by Karin Soderquist.
Odyshape seems to owe as much to contemporary classical music as it does punk – was this something that inspired you?    
ANA: We listen to all sorts of music so, intentionally or unintentionally, different  things appear. I do like some classical music very much, like the Bach's cello suites, Erik Satie, some opera, etc.  but I don't think my playing sounds very classical…maybe you mean the violin which was played by Vicky Aspinall who is classically trained.

The Raincoats in 1981.
You haven't produced a new album since the mid 90s – what have you been up to since then?
ANA: I've been doing my own solo music and released an album called The Lighthouse on Chicks On Speed records. I've also been doing some drawings and paintings some of which I'll be showing at the Pop Montreal festival, together with Gina's videos and Shirley's photographs. It's really a great opportunity to show our art, visual and musical. It's the first time we do this and are very happy and excited about it.
GINA: I have been collaborating with various musicians and artists and very involved in a project called The Gluts, (with two women artists) Also I have been playing solo, writing songs, making films, painting and, raising two children.

The Raincoats by Rukmunal Hakim.
Gina – you were an early fan of the craft revival – knitting on tour. Do you still craft and if so what?
GINA: I did knit on the first Raincoats tour, when I wore the jumper at the final gig… and then didn't do any knittingfor quite a few years but have always liked to paint, draw, knit, mosaic, make films whatever. I have been knitting a lot in the last year or two and have made Raincoats inspired bags, and I have also been sewing banners with lyrics and messages on them.  

The Raincoats by Kassie Berry.
Has Gina Birch's film, The Raincoats, Fairytales, been completed? 
GINA: The film is still a work in progress. It is an organic process it seems and hopefully will be concluded in the coming six months.
Baby Song performed live in the 80s
You will be playing your debut album live again at ATP this December – anything special in store and what are you looking forward to most about the Holiday Camp experience?
ANA: Just playing is a special thing, but we've played twice at ATP and really enjoyed it: swimming, meeting people, being able to choose amongst so much different music and the relaxed atmosphere. We will be playing the first album at Jeff Mangum's request but will play other songs too, not sure which yet.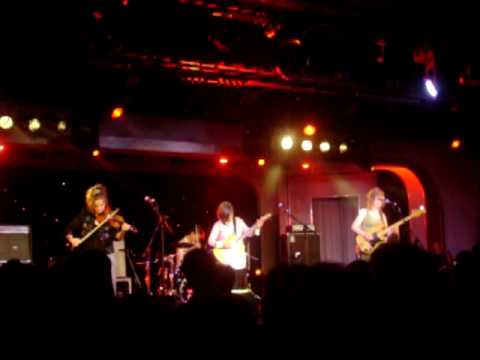 The Raincoats perform live at ATP in 2010
Which other current bands do you enjoy listening to or watching?
ANA: I think P.J. Harvey's latest album is so good, so I enjoyed listening to it at seeing them live a couple of times. Also saw Portishead whose music I like but had never seen live and that was very good too. I was listening yesterday to Ponytail, Colleen, Electrelane, Neutral Milk Hotel, Louis and Bebe Barron, Jenny O in the car coming back from Portugal.

The Raincoats by Barb Royal.
What next for The Raincoats?
ANA: We're doing a tour in the U.S.A. and Canada (New York, Washington, Chicago, Detroit, Toronto and Montreal) in September and ATP in December. And because of the re-release of Odyshape and those dates some interviews too… thanks for your part. Otherwise nothing concrete, but I'm sure other things will happen.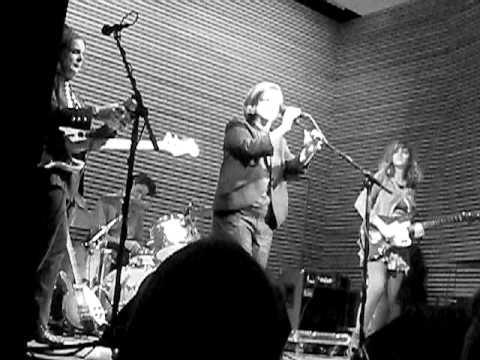 Only Loved at Night, performed live in 2009
Odyshape is rereleased in heavyweight vinyl and as a special edition CD on We ThRee records on September 12th 2011. The band will tour the east coast of the USA from 16 – 26 September 2011 and play Jeff Mangum's ATP, Minehead on 3 December 2011.
Categories ,1980s, ,2011, ,album, ,Ana da Silva, ,Arrhythmic, ,atp, ,Baby Song, ,Bach, ,Barb Royal, ,Bebe Barron, ,Beth Ditto, ,Body Fascism, ,Chicks on Speed, ,classical, ,Colleen, ,December, ,Electrelane, ,Erik Satie, ,folk, ,Gina Birch, ,James Shedden, ,Jeff Mangum, ,Jenny O, ,Karin Söderquist, ,Kassie Berry, ,Kurt Cobain, ,Louis, ,Neutral Milk Hotel, ,Odyshape, ,Only Loved at Night, ,PJ Harvey, ,Ponytail, ,Pop Montreal, ,Portishead, ,punk, ,Rerelease, ,review, ,Rukmunal Hakim, ,The LIghthouse, ,The Raincoats, ,tour, ,Vicky Aspinall, ,Violin, ,We ThRee, ,WETHREE

Similar Posts: