Alex Gene Morrison's art can't help but attract attention. Despite being displayed on a backward-facing wall, mind purchase the second I walk into the 'The Future Is Now' show, website like this my eye is drawn straight to it. He is exhibiting three large canvases; each of a painted face, buy more about but it is the middle one that I find most conspicuous. The head, body and hair are hidden under a dense layer of matt black paint, leaving only a set of menacing eyes in the picture. The larger than life size does nothing to mask the unnatural peculiarity of Morrison's portraits either. My walk around, champagne glass in hand, takes me past the odd inspiring piece. Somewhere on a balcony above me I spy a tower of precariously balanced teacups that look fairly beautiful from afar. Still on the ground floor, however, I stop to admire a row of miniature portraits, skilfully painted in muted colours. Each displays a varying degree of abnormality – none of the delicate faces are by any means normal.
David Hancock's enormous, hyper-real landscape is definitely something to be seen. Vaguely reminding me of one of those children's T-shirts with unicorns, hills and fairy dust on, the canvas depicts a fantasy mountain scene, with wonderful skies and a dreamlike river. Hancock has chosen to makes certain parts of the canvas 3D, presumably using something lumpy like mod-rock to create an unsatisfying surface you want to reach out and touch.The piece that really stayed with me that evening though was by Alexis Milne.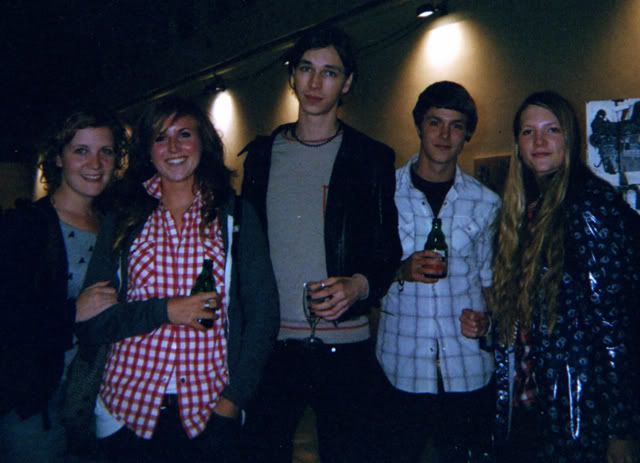 Whilst scanning some art on the other side of the room I caught sight of Amelia and the crew hovering around a small, darkly painted shack. On closer inspection I discover that inside the hut is the scariest clown I have ever seen, complete with tarot cards and a fake American accent. Pinned to the walls are various masks of animals and child-like paintings. The clown (perhaps Milne himself?) is reading Amelia's 'tarot cards' in his loud,phoney, and frankly creepy voice. He tells her that she is a horny schizophrenic. I decide I must also have a go while we're there. He wastes no time in telling me that I am to end up a chariot racing, lap dancer with a fondness of eating.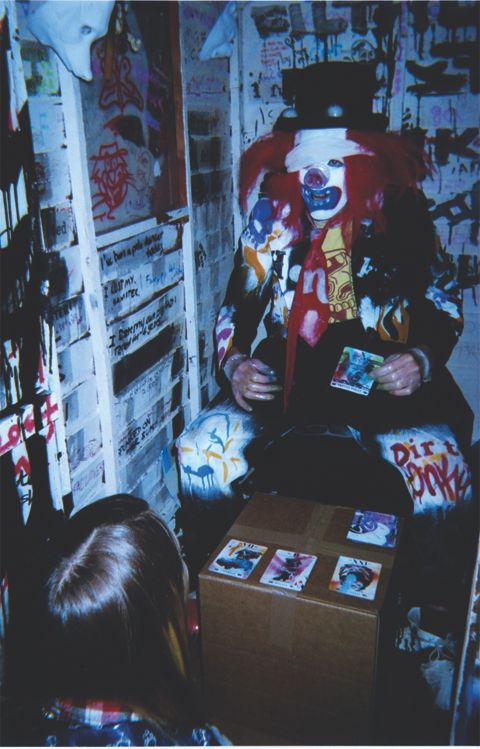 Hmm. He also makes me wear a creepy cat mask whilst talking to him, so I understand this is to be taken with more than a pinch of salt. On the whole 'The Future Is Now' show displays an array of style, quality and substance in the pieces they have chosen to exhibit. I am left feeling overwhelmed (it really is quite a big exhibition) but more importantly inspired.
Photography: Amelia innit!
Photo 1: Sophie, Anna, James and Tim
After forgetting to RSVP to the Young Knives' Rough Trade instore, case some of the A-Mag team and I were sitting outside nursing ciders wondering whether it was time to try and sweet talk the doorman. Funnily enough, approved munching on some food next to us was none other than the Young Knives manager, who took pity and kindly put us on the door. Thanks Duncan!
After trying to scull the rest of our cider – yes, all class we are – we walked into Rough Trade to the sounds of the song The Decision, and an epic, Phil Collins style drum fill. Oh yeaaah baby. I, not having the vertical advantage of my companion's six foot four inches, had to crane my neck from mid-way through the crowd to glimpse the thick rimmed geek chic of Henry and Thomas "House Of Lords" Dartnell and Oliver Askew, garbed up in what Tall James described as conservative shirts and ties, looking like they've come fresh out of their nine to five jobs at a real estate agent.
With mature, well-crafted indie pop songs, the Young Knives are musically tight like tigers. As has happened in the past from what I gather, Razorlight got a mention – as they have a song called Up All Night as well…incidentally, as do Unwritten Law, Lionel Richie, Boomtown Rats and the Counting Crows. Their vocal harmonies are reminiscent of Crowded House. Repetitive guitar riffs ran under infectious hooks, getting heads bobbing and a warm reception from the crowd.
With their easy stage presence and self-deprecating banter that conveyed their confidence and self-assurance at the quality of their own music; and whether they were sartorially splendid or committing fashion faux pas in their outfits, they could convince me to rent a property any day. And then I'd ask them to play at the housewarming.
It was the most incestuous night of music ever – though apparently every night at the Brudenell Social in Leeds is a musical pit of incest…
Besides being an opportunity for solo music makers to take their bedroom brainstorms out onto the stage, visit web MAN ALIVE! borne of Leeds artist collective Nous Vous, pharmacy included a number of other artist collectives showcasing and selling various works and bits and bobs.
First up was Dinosaur Pile-Up, recipe popping his gig cherry with a two song set. With a hand injury in play and the first rehearsal with a band backing him up that same afternoon, performance-wise it was much better than some could have done under the circumstances. It sounds like commercial success to me. Love is a Boat (And We're Sinking) is an infectiously catchy anthem for frustrated heartbreak and confusion at relationships enough for an entire American teen series (enter Ryan and Marissa).
Glaciers, one Nic Burrows was up next with a bumbling Mr. Bean-like stage presence that really charmed, to many female exclamations of "Aw How sweet!" One of his mates actually commented "That slick bastard knows exactly what he's doing." Musically, he certainly does. Plaintive, earnest and warm, Glaciers is lovely. Guest appearances by the darling she-beast Katie Harkin of Sky Larkin fame and Mike Payne aka Mechanical Owl in Melamine made it an onstage pow wow.
Vest For Tysso is Will Edmonds and is a one, and occasionally, a two man band. Glaciers' Nic Burrows popped in and out of the set on various instruments. Sweet, rich and multi-dimensional, just like a hearty carrot cake, this was, amazingly his first and last gig before jetting off to play at Canada's Pop Montreal Festival.
Star of the night though was Mike Payne aka Mechanical Owl, who surprised with some genuine pop gems. After some technical mishaps including a core meltdown on his MACbook, and a badly placed mobile phone (which resulted in the tell-tale interference of an incoming SMS – though in this context, it may not have been totally out of place), Mechanical Owl impressed with the well rounded maturity of his varied and well thought out songs – smile inducing, strong and melancholic.
Then came Napoleon IIIrd, who never disappoints, with his heady mix of strummed acoustics, undulating synth, full of cuts and clicks, a triumphant trumpet section, and impassioned and ragged vocals. His is a set full of choruses that will march around in your head, with a broody, somewhat troubled, but ever hopeful Napoleon IIIrd fully in command of his electronic brigade.
Whether you like it or not, the royal family themselves are a result of inbreeding; as are most sovereign clans. Generally, this sort of family tree results in at the very least, mildly cross-eyed, buck-toothed, hammy-eared dolts. On the other hand, the MAN ALIVE! bill saw everyone having some kind of finger in everyone else's pie; and instead of the usual weak specimens, gave birth to the rather uncanny result of an unfairly talented line up, despite springing from a small (and refreshingly un-skinny) 'jean' pool.
Flier by The Nous Vous Collective
Napoleon IIIrd Photograph by Christel Escosa

One of my favourite artists at the moment, illness and one of my favourite London venues…. surely Bat for Lashes (aka Natasha Khan and co) at Camden's majestic Koko would be fabulous, approved right? Of course it was. I missed the support because I was running late: I simply couldn't decide what Natasha would want me to wear. When I finally arrived, mid the Bjork-esque Trophy, the quiet crowd were already mesmerized by the sound of Khan and her band. I couldn't fathom whether the eerie, sombre silence and general lack of movement was good or bad – until the raucous applause at the end of the opener. Clearly the room was full of Bat fans, and it was a struggle to find any spot in the whole venue where a good view was to be had. I weaved in and out of folk until I found myself at the highest balcony, which was surprisingly only half full.
From here, a clear view of the stage was to be had. Winter trees framed the singer and her band, whilst a mystic moon hung creepily over the ensemble featuring interesting projections – available as a post card set for you to treasure after the gig.
If you haven't had the pleasure of seeing this incredible act live, and instead have only read a syndicate of reviews, by now you will no doubt feel nauseous reading the following words: eerie, scary, spooky, haunting, chilling, magical, bewitching. I'm afraid, dear readers, that only this compendium of descriptions summarises a gig like this. But what most reviewers often omit is that, beyond the monstrous melodies, this is a stunning woman – musically, technically, physically.
Natasha, dazzling as ever in a bat-winged glittered smock, leggings, long boots and staple headband, moved effortlessly from track to track – presenting her svelte frame sometimes at front stage centre, bells and all; sometimes taking time at the piano, or on one occasion brandishing her recently acquired 'wizard's stick' for a reworking of classic track Sarah. Natasha firmly has her feet on the ground, and spoke short, sweet sentences in between songs – her timid demeanour shining through on lines sung bashfully – such as Taste The Hands That Drink My Body.
Seeing the gig from the upper balcony was a true experience – the crowd wore their complimentary Bat For Lashes paper masks (featuring Khan's original trademark feather head dress) and witnessing them all lined up, facing the stage, heads tilted upwards – was a little disturbing. Feeling like a prize pervert at a strange cult meeting was not what I expected, but nevertheless it was entertaining.
Songs like the dazzling Horse and I and crowd favourite What's a Girl To Do? were given an more interesting up-tempo flavour; it was a huge shame the latter was let down with weak backing vocals. These tracks were interspersed with softer choruses such as The Wizard and the poetic Saw A Light, which were kept at their spellbinding best. A sweeter cover of Tom Waits' Lonely was an attractive interpretation and would have gone unnoticed to all bar revellers acutely familiar with Natasha's music. New track Missing Time was also showcased; it sounded great but stuck out like Natasha's outfit might do at a funeral.
Last night saw the end of the Fur and Gold tour, an album that has lauded critical acclaim internationally. Let's raise a toast to Khan and Co, and keep everything crossed that the follow up album will be equally as affecting as the debut.
Photography by Matt Bramford
Similar Posts: